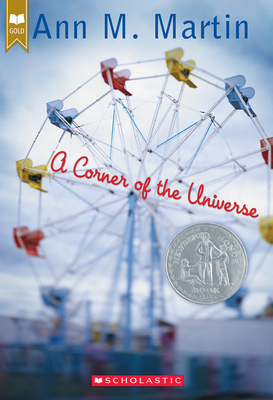 A Corner of the Universe (Paperback)
Scholastic Paperbacks, 9780439388818, 189pp.
Publication Date: January 1, 2004
Description
Ann Martin's phenomenal Newbery Honor book, now in paperback
The summer Hattie turns 12, her predictable smalltown life is turned on end when her uncle Adam returns home for the first time in over ten years. Hattie has never met him, never known about him. He's been institutionalized; his condition invovles schizophrenia and autism.
Hattie, a shy girl who prefers the company of adults, takes immediately to her excitable uncle, even when the rest of the family -- her parents and grandparents -- have trouble dealing with his intense way of seeing the world. And Adam, too, sees that Hattie is special, that her quiet, shy ways are not a disability,
About the Author
Ann M. Martin's The Baby-Sitters Club series sold over 176 million copies and inspired a generation of young readers. Her novels include the Main Street series, BELLE TEAL, the Newbery Honor book A CORNER OF THE UNIVERSE, HERE TODAY, A DOG'S LIFE, and ON CHRISTMAS EVE, as well as the much-loved collaborations P.S, LONGER LETTER LATER and SNAIL MAIL NO MORE with Paula Danziger, and THE DOLL PEOPLE and THE MEANEST DOLL IN THE WORLD, written with Laura Godwin and illustrated by Brian Selznick. She lives in upstate New York.
Praise For A Corner of the Universe…
Declining, as she always does, both her best (and only) friend's invitation to Maine and her grandparents' offer of summer camp, Hattie plans to spend the summer of her twelfth birthday in her hometown. She likes to wander the town's few streets, visiting the library and her grandparents and her favorite stores, but always staying close to home, which is in her case a boardinghouse run by her parents. But Hattie's desired ordinary summer is upset when not one but two strangers come to town. First to arrive is her hitherto unrevealed twenty-one-year-old uncle Adam, who suffers from an unspecified mental illness that makes his conversations an enthusiastic milange of sense, nonsense, and word-perfect dialogue from the I Love Lucy show (the book is set in 1960). Hattie is convinced that no one understands him as well as she does: "I feel a little like Adam's baby-sitter, a little like his mother, not at all like his niece, and quite a bit like his friend." The author balances this friendship with another that Hattie, surprising her shy self, begins with a girl traveling with an itinerant carnival-Leila's father runs the Ferris wheel and her mother is the "Pretzel Woman" in the sideshow. Martin excels at evoking simply the intricacies of friendship, what it enables you to give to others, and what it teaches you about yourself. She also understands its perils. Trying to offer Adam the freedom and happiness she believes is wrongly denied him by his parents, Hattie relates to him as she would a fellow child-a mistake whose gravity becomes apparent in the book's terrifying climax. Told in the present tense in Hattie's personable voice, the story takes on serious concerns but has equally strong standing as the kind of novel kids mean when they ask for "a book about friends."--Horn Book Magazine, January, 2003--starred review


It is 1960, Hattie Owen is about to turn 12, and her world is about to be turned upside down. She loves her small town and the boarding house her parents run (enabling her father to pursue his art), in part because of the security and familiarity her surroundings represent. The boarders seem to be as much a part of the family as her grandparents, who live in a mansion and literally look down their noses at the Owens. But Hattie's perceptions of life in general--and her life in particular--change when 21-year-old Uncle Adam returns to town after his residential school closes. Adam seems to be manic-depressive, and he's a savant when it comes to dates. He's news to Hattie, but he mostly delights her, and she feels she can help him. His problems, however, are more than anyone--including Adam--can handle. The book's message--that people like Adam help "lift the corners of the universe" --is passionately offered, though perhaps too oft repeated. It is Martin's characters that shine, especially Hattie, who is trying to feel her way through family secrets, and Adam, whose valiant efforts to forge a life for himself are as uplifting as his failures are heartrending. The supporting characters are strong pillars that hold up the rest of the story, and their subtle depictions provide a depth that makes it much more than a "problem novel." This is a fully realized roller coaster of emotions, and readers take the ride right along with Hattie.--Booklist, December 2002--starred review

Martin (Belle Teal; the Baby-Sitters Club series) hints at a life-changing event from the first paragraph of this novel narrated by a perceptive and compassionate 12-year-old, and set in the summer of 1960. Hattie Owen had been anticipating a summer as comfortably uneventful as all the others ("I just want things all safe and familiar," she admits), helping her mother run their boarding house, painting alongside her artist father and reading "piles" of books. Then Uncle Adam (whom Hattie never knew existed) makes a surprise entrance, turning everything upside-down. Hattie's mother says that Uncle Adam has "
Advertisement