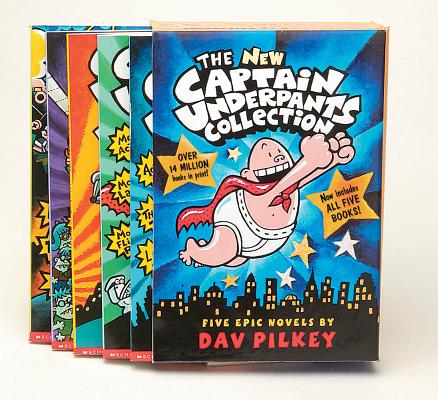 The Capt Underpants Boxed Set (Captain Underpants) (Multiple copy pack)
The Blue Sky Press, 9780439417846, 128pp.
Publication Date: August 1, 2002
* Individual store prices may vary.
Description
Tra-La-Laaaaa! Join George and Harold on FIVE hilarious adventures with the amazing Captain Underpants, as they duel Dr. Diaper, tackle the talking toilets, clash with the crazy cafeteria ladies, plot against Professor Poopypants, and wrestle the wicked Wedgie Woman. Overflowing with humor, action, and that world-famous cheesy animation technique, Flip-O-Rama, this boxed collection will make kids laugh until soda comes out their noses.

Have you read your UNDERPANTS today?
About the Author
DAV PILKEY is the creator of many acclaimed children's books, including Dogzilla, Kat Kong, god bless the gargoyles, and the bestselling Captain Underpants series. His book The Paperboy received a Caldecott Honor. He lives in the Pacific Northwest. www.pilkey.com
DAV PILKEY is the creator of many acclaimed children's books, including Dogzilla, Kat Kong, god bless the gargoyles, and the bestselling Captain Underpants series. His book The Paperboy received a Caldecott Honor. He lives in the Pacific Northwest. www.pilkey.com
DAV PILKEY is the creator of many acclaimed children's books, including Dogzilla, Kat Kong, god bless the gargoyles, and the bestselling Captain Underpants series. His book The Paperboy received a Caldecott Honor. He lives in the Pacific Northwest. www.pilkey.com