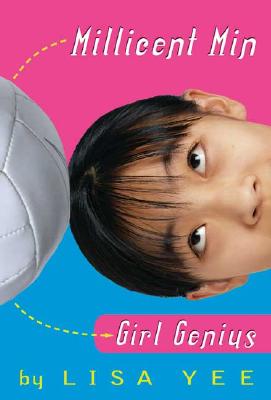 Millicent Min, Girl Genius
Hardcover

* Individual store prices may vary.
Other Editions of This Title:
Paperback (9/1/2004)
Prebound (9/1/2004)
Paperback (6/1/2006)
Description
Millicent Kwan is having a bad summer. Her fellow high school students hate her for setting the curve. Her fellow 11-year-olds hate her for going to high school. And her mother has arranged for her to tutor Stanford Wong, the poster boy for Chinese geekdom. But then Millie meets Emily. Emily doesn't know Millicent's IQ score. She actually thinks Millie is cool. And if Millie can hide her awards, ignore her grandmother's advice, swear her parents to silence, blackmail Stanford, and keep all her lies straight, she just might make her first friend. What's it going to take? Sheer genius.
Praise For Millicent Min, Girl Genius…
Voice of Youth Advocates
(June 1, 2004; 0-439-42519-0)

At the tender age of eleven, Millicent Min has completed her junior year of high school. Summer school is Millie's idea of fun, so she is excited that her parents are allowing her to take a college poetry course. But Millie soon concludes that college is "just like high school, only bigger." Even in a college classroom, she is far more earnest and dedicated than any of the other students, and she is still regarded as an oddball. Meanwhile her mother signs her up for volleyball "to give her a more normal and well-rounded childhood." Although Millie is a klutz on the volleyball court, there she meets Emily, who shares her dislike of sports. Fearing to lose this first real friend, Millie lies to Emily about her academic genius. Eventually Millie's deceptions catch up with her, and she is forced to apply herself to something other than homework: learning how to become a true friend. The tension between Millie's formal, overly intellectual way of expressing herself and her emotional immaturity makes her a very funny narrator. Millie's obsession with book learning goes far beyond the stereotypical studiousness of Asian Americans. Her laid-back father, artistic mother, and wise, warm-hearted grandmother all encourage Millie to put down her books and broaden her interests. Fellow Chinese student Stanford Wong prefers basketball to schoolwork, and mutters to Millie, "Because of you, teachers expect every Chinese kid to be a genius." Readers considerably older than Millicent's eleven years will enjoy this strong debut novel.-Walter Hogan.

Bulletin of the Center for Children's Books November 2003
'I have been accused of being anal retentive, an overachiever, and a compulsive perfectionist,' says Millicent, 'Eke those are bad things.' To her, correctness, achievement, and perfection are the joys of life, and since she's already out of step with her peers as an eleven-year-old finishing her junior year, those characteristics are pretty much the nails in her social coffin. Her parents are determined that she develop some friends of her own age, so to this end they sign her up for summer volleyball; there she's surprised to find herself embarked on a genuine friendship with garrulous and inclusive Emily, but she's unwilling to reveal the truth about her academic achievements to her new friend. While the book deals head-on with the efich@ of the Asian-American genius (Millicent resentfully tutors a Chinese- American age-mate who feels her perpetuation of the stereotype only makes his life harder), there are quite a few other clich@s in untrammeled operation: Millicent has the ulcers of many fictional accelerated kids, she understands just about every- thing except for the responses she engenders, she misconstrues her mother's physi- cal change as illness when it's really pregnancy. The portrayal of Miflicent and Emily's growing friendship is cheerful and plausible, howewr; less cheerful but also believable is Millicent's bewilderment when finahy facing something-vollcy@ ball-that she has to work to master and her unhappy discovery that college (she's taking a summer class) isn't the shortcut to easy human interaction she'd hoped ('It is a cruel joke on me then that college is just like high school, only bigger'). The depictions of'Millicent's affectionate parents and her loving and eccentric grandmother refreshingly reject stereotypes of both Asian-American farniues and showboating relatives of gifted children. The 'genius" notion may hook readers, but it's the sympathetic depiction of universal trials that will keep them reading. DS

Publishers Weekly
(November 10, 2003; STARRED)

Readers don't have to share Millicent Min's IQ to empathize with the 11-year-old genius narrator featured in this energetic first novel. Millicent breezes through high school and college classes, but when it comes to m
Arthur A. Levine Books, 9780439425193, 248pp.
Publication Date: October 1, 2003
About the Author
Lisa Yee's novels include Millicent Min, Girl Genius; Stanford Wong Flunks Big-Time (an ALA Notable Book); the first Bobby book, Bobby vs. Girls (Accidentally); and most recently WARP SPEED. She lives in South Pasadena, California, with her family. Please visit her website at www.lisayee.com.
or
Not Currently Available for Direct Purchase