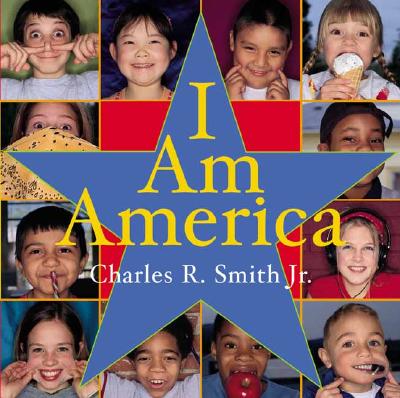 I Am America
Hardcover

* Individual store prices may vary.
Description
Poet and photographer Charles Smith, Jr. has created a poignant, stunning photographic picture book that celebrates the many faces that make up America.

"I am America/I am proud/I am diverse/soft-spoken/and loud."
The powerful poem in this one-of-a-kind book is enhanced by the accompanying photographs that represent children of diverse ethnic and racial backgrounds. The playful images and touching poetry work together to tell the story of America. Children and parents alike will be moved by each unforgettable face and each strikingly beautiful line of verse. Photographer Charles Smith, Jr. brings his unique artistic style to this patriotic and poignant portrayal of America's children.

Praise For I Am America…
Publishers Weekly
(January 5, 2004; 0-439-43179-4)

"I am America. I am proud," announces Smith (Rimshots) in large, bold type at the star-spangled opening of this eye-catching photographic anthem. Smith captures his multiracial subjects in two- and three-picture series as the text sings a paean to individuality and inclusion. "I am almond eyes./ I am a proud nose./ I am cheeks freckled the color of a rose." Smith's theme is a perennially popular one ("I am America,/ and America is me"), and if the text has a familiar ring, the photos have an instant freshness. Most of the kids gleefully mug for the camera, caught indulging in the kind of behavior that usually prompts adults to say, "Stop fooling around so I can take this picture!" A preteen girl takes off her bandanna and holds it over her face to play peek-a-boo, then assumes a faraway look that suggests a private reverie; a boy with a lollipop shows off his tinted tongue and then uses the candy to give his cheek a squirrel-like bulge. The pictures' mischievous spontaneity brings to mind the giddiness of repeated sessions in a photo booth. Laid out on high-voltage solid-colored backgrounds that change from page to page, the photos are framed in thin contrasting bands that make them seem to vault off the paper. Lots of fun. All ages. (Nov.) Copyright 2004 Reed Business Information.

School Library Journal
(November 1, 2003; 0-439-43179-4)

Gr 1-3-Brilliant full-color photographs depict vivacious children of different ethnic and racial backgrounds as they make faces, play music, and act like kids. Poetic text conveys the diversity of the nation's citizens: "I am almond eyes. I am a proud nose. I am cheeks freckled the color of a rose." The bright pages of purple, hot pink, and lime green add to the joy of this theme-based photo album that celebrates the spirit of America. It's a good reminder that our nation is made up of many distinctive people with various interests, all part of the country we call home.-Anne Knickerbocker, formerly at Cedar Brook Elementary School, Houston, TX Copyright 2003 Reed Business Information.

Booklist
(November 1, 2003; 0-439-43179-4)

PreS-Gr. 2. I am big baggy jeans. / I am bandana wraps. / I am blue denim jackets. / I am backward baseball caps. From clothes and music to religion and ethnicity, this handsome picture book celebrates diversity in America today, with lots of full-color photos of smiling kids and a simple rhyming text in very large type. Each kid appears repeatedly in lively close-up portraits, usually three or more to a page, revealing the rich variety in each individual. Mosaic, not melting pot, is the metaphor here, whether it's physical appearance, religion, or culture. Children will enjoy finding themselves and their friends and talking about their differences and connections. --Hazel Rochman Copyright 2003 Booklist



Cartwheel, 9780439431798, 32pp.
Publication Date: July 1, 2003
About the Author
Poet and photographer Charles R. Smith, Jr., creator of Rimshots, I Am America, and Short Takes, has traveled all over the world. Now he makes his home with his wife, Gillian, and two kids, Adrian and Sabine, in Poughkeepsie, New York.