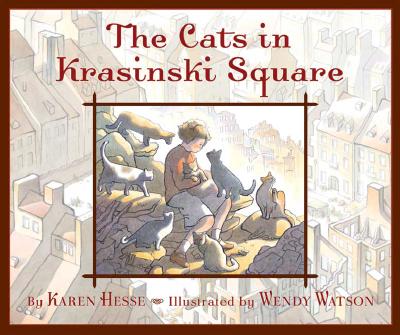 The Cats in Krasinski Square (Hardcover)
Scholastic Press, 9780439435406, 32pp.
Publication Date: September 1, 2004
Description
When Karen Hesse came upon a short article about cats out-foxing the Gestapo at the train station in Warsaw during WWII, she couldn't get the story out of her mind. The result is this stirring account of a Jewish girl's involvement in the Resistance. At once terrifying and soulful, this fictional account, borne of meticulous research, is a testament to history and to our passionate will to survive, as only Newbery Medalist Karen Hesse can write it.
About the Author
Karen Hesse is the award-winning and critically acclaimed author of many books for children. Her titles include WITNESS, THE CATS IN KRASINSKI SQUARE, and the Newbery Medal winner OUT OF THE DUST, among many others. She lives in Vermont with her husband and two teenaged daughters.
Praise For The Cats in Krasinski Square…
Kirkus
Review Date: AUGUST 01, 2004
STARRED
A young Jewish girl and her sister, "passing" as Polish in WWII Warsaw, plot to sneak food, brought by collaborating train passengers, into the ghetto. Their scheme is jeopardized when the Gestapo meets the train with dogs that sniff out both smugglers and contraband food. To foil the Nazis, the sisters gather up the feral cats of Krasinski Square in baskets. They release the cats as a distraction to the dogs, thus allowing the food to be smuggled into the ghetto. Skilled pacing renders the cat solution a satisfyingly subversive surprise while Watson's illustration of the flummoxed Nazis underscores the ensuing chaos. The illustrations, with their soft but firm line and monochromatic sepia-toned palette, have an appropriate retro look. Among the great historical avalanche of Holocaust stories, Hesse has found a little-known vignette that she treats with her customary modest but elevating free-verse style, making a grave subject enormously accessible, gently humorous, and affectingly triumphant. (author's note, historical note) (Picture book. 6-10)



School Library Journal
November 1, 2004
Gr 3-5-Set in Warsaw in 1942, this picture book brings to life a little-known incident of Jewish resistance. A young girl who has escaped the Ghetto lives with her older sister who, with friends, plans to smuggle food to those still there. Somehow the Gestapo has heard of the plan and has designs of its own-dogs to sniff out the bundles of food arriving with the resisters on a train. With quick thinking, the friends gather all of the cats living in Krasinski Square into baskets and head for the station. Just as the train pulls in, the felines are let loose, the dogs chase the cats, chaos erupts, and eventually the contraband is passed through the chinks in the Ghetto wall. Illustrated by Watson in an arresting departure from her usual style in muted tans, browns, and oranges, the cats, the people, the buildings of Warsaw, and even the snarling dogs are bathed in a warm yellow light-a kind of innocent luminescence of hope that belies the evil that is being done. The play of light and the naturalness of the cats' poses are almost a comfort in a story that adults sense as keenly distressing, and that beckons for adult interpretation or guidance. What is clear is the immediate poignancy of these cats and the author's evocative language in describing them: "They belonged once to someone. They slept on sofa cushions- they purred- nuzzling the chins of their beloveds." They could be the Polish Jewry of the Warsaw Ghetto.-Harriett Fargnoli, Great Neck Library, NY Copyright 2004 Reed Business Information.

Booklist
STARRED October 15, 2004
Gr. 2-5. In luminous free verse, Hesse's latest picture book tells a powerful story of a young Jewish girl who, together with her older sister, ingeniously fights the Nazi occupation of Warsaw. After escaping from the Jewish ghetto, the girl avoids detection: I wear my Polish look, / I walk my Polish walk. / Polish words float from my lips / and I am almost safe, / almost invisible. She finds joy in playing with the city's abandoned cats, who show her holes in the ghetto wall, which the girl's older sister and their resistance friends will use to pass supplies shipped by train to Warsaw. The Gestapo learns of the scheme, and soldiers wait at the train station with dogs. Luckily, the cats inspire a solution; they distract the dogs and protect the supplies. It's an empowering story about the bravery and impact of young people, and Hesse's clear, spare poetry, from the girl's viewpoint, refers to the hardships suffered without didacticism. In bold, black lines and washes of smoky gray and ochre, Watson's arresting images echo the pared-down language as well as the hope that shines like the glints of sunlight on Krasinski Square. An author's note references the true event
Advertisement