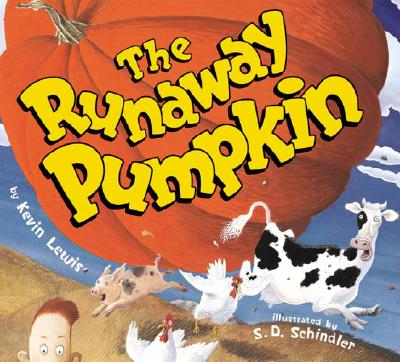 The Runaway Pumpkin (Hardcover)
Orchard, 9780439439749, 32pp.
Publication Date: September 1, 2003
* Individual store prices may vary.
or
Not Currently Available for Direct Purchase
Description
When Buck, Billy, and their little sister Lil spy the biggest pumpkin they've ever seen, they can't resist. Buck and Billy try to roll the pumpkin down the hill to show everyone, but it's too big! Before they know it, it's bumping and thumping and rolling out of control down the hillside. It busts through Momma Baxter's sty and makes her think of pumpkin pie. It knocks over Grandpa Baxter and makes him think of pumpkin soup. And when Poppa Baxter finally stops it in a pumpkin bed, all he can think of is pumpkin bread.
Praise For The Runaway Pumpkin…
School Library Journal
(October 1, 2003; 0-439-43974-4)

PreS-Gr 2-A story about an enormous pumpkin that gets out of hand. The Baxter boys make the mistake of cutting it from the vine before they have worked out how to get it safely home. With a repeated rhythmic chorus that kids will love to chime in on, the pumpkin makes its way through the hillside farm, scattering animals and Baxters in its wake. The family members finally manage to get it inside, and Granny cooks up a feast for Halloween supper. Schindler's gouache-and-pencil illustrations are amusing and rich in detail. Children will enjoy seeing the animals' reactions, as the out-of-control pumpkin wreaks havoc on sty and henhouse, and will also appreciate the family's inventive Halloween costumes. This is a fun read-aloud, without the dark overtones of so many of the holiday's stories, but it pays to practice the text once or twice as it can be a bit of a tongue-twister. At the end, readers are likely to be left with a longing for an appendix of Granny's recipes.-Jane Barrer, Washington Square Village Creative Steps, NY Copyright 2003 Reed Business Information.

Publishers Weekly
(August 4, 2003; 0-439-43974-4)

In Lewis's (Chugga-Chugga Choo-Choo) rhyming tale, it is Halloween day when an enormous pumpkin bounces downhill and through the Baxter family farm. At the sight of this "thumpety/ bumpety/ thumpin'/ bumpin'/ round and rolly/ runaway pumpkin!" the Baxters think not of personal safety but of Granny's pumpkin recipes. Schindler (Skeleton Hiccups), in amusing but untidy compositions, gives each person an astonished expression and a thought-balloon flash of pumpkin bread, soup or pie. Crisis averted, the resourceful family carves a humongous jack-o'-lantern while Granny bakes. A solid choice for children who prefer a slapstick celebration to chills and thrills. Ages 4-7. (Sept.) Copyright 2003 Reed Business Information.
Advertisement