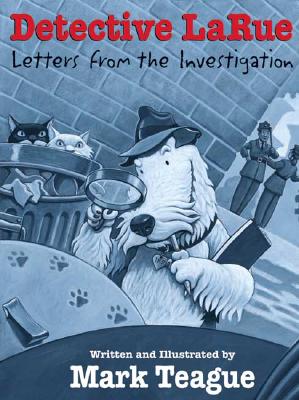 Detective LaRue: Letters from the Investigation (Hardcover)
Letters from the Investigation
Scholastic Press, 9780439458689, 32pp.
Publication Date: September 1, 2004
Description
Ike LaRue--the devilish dog hero of Mark Teague's Book Sense Book of the Year, Dear Mrs. LaRue--goes from obedience school dropout to shrewd sleuth in this exceedingly funny sequel.

As if obedience school wasn't bad enough, Ike now finds himself in jail--wrongly accused (of course!) of terrorizing the Hibbins' cats & stealing their cat treats. Once again, he pleads his case to Mrs LaRue, who's vacationing in France, but to no avail. When a string of canary burglaries stalls the Snort City Police force's investigation--and reveals their crime-solving ineptitude--Ike flees custody and takes matters into his own paws. Expect more mad-cap comedy in Ike's daring escapades (real and imagined), as well as ingenious split-screen visuals from the incomparable Mark Teague.
About the Author
Mark Teague is an award-winning children's book author and illustrator whose books include the NEW YORK TIMES bestselling How Do Dinosaurs... series, the LaRue series, FIREHOUSE!, FUNNY FARM, and many other humorous picture books. Mark lives in New York state with his wife and their two daughters.
Advertisement