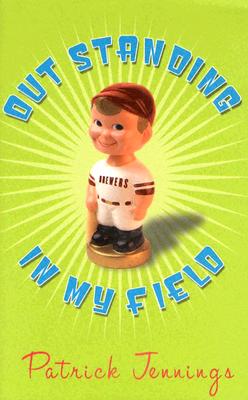 Out Standing In My Field (Hardcover)
Scholastic Press, 9780439465816, 176pp.
Publication Date: February 1, 2005
Other Editions of This Title:
Paperback (5/1/2006)
* Individual store prices may vary.
Description
Ty has been named for baseball legend Ty Cobb, but the hero of Jennings' wonderful new novel isn't living up to his namesake's reputation when it comes to The Game. He loves baseball; he just isn't great at it, despite all the efforts of his coach and father, who himself once dreamed of playing in the majors. To complicate matters, Ty's younger sister Daisy is a baseball whiz (as well as the school genius). In this sharply witty, deeply poignant all -American novel, Ty has to figure out just who he's trying to please -- his father, his teammates, or himself.
About the Author
Patrick Jennings was born in Crown Point, Indiana in 1962; He graduated from Arizona State University in 1985 with a bachelor of fine arts. He has taught preschool and English as a Second/Other Language to adults. In 1993 he lived in San Cristobal de las Casas, Chiapas, Mexico where he taught English as a Foreign Language to students, ranging in age from preschoolers to adults. Afterwards Patrick moved to Bisbee, AZ where he worked afternoons in the library, dedicating the rest of his working time to writing and doing activities (readings, storytimes, art activities) with children. One of his goals in visiting schools is to help children realize the value of their education and creative potential. His daughter, Odette, was born in April 1999, and he has happily been dividing his time between caring for her and writing.
Praise For Out Standing In My Field…
VOYA 6/1/05 Fifth grader Ty Cutter loves baseball and plays right field for the Babylon Brewers Pee Wee team in Arizona. His father, a stubborn, insensitive, former big-league player who never made it, insists that everyone call him The Professor. He coaches the Brewers with the premise that winning is everything. Unfortunately Ty is not a very good player and regularly disappoints his demanding father. On top of that, his math-whiz, year-older sister, Daisy, is an outstanding player. She allows her name to appear on the team roster but refuses to actually play, preferring to keep tabs on team statistics. Their city manager mother is supportive and spends time embarrassing Ty by waving from the stands and calling him sweetheart. The book is essentially a chapter-by-chapter, inning-by-inning description of the last game of the regular season, which Ty hopes the team will lose to end things once and for all before the tournament. The background and character development of Ty's family, interspersed within the details of the game, blend adequately with the baseball action. Readers may be puzzled by The Professor's final behavior and wonder about his problems with alcohol. Ty's first-person narrative often lapses into terminology that transforms his voice into that of a teenager rather than a preteen. Nevertheless diehard baseball fans would appreciate this story filled with plenty of sports jargon and an abundance of humor.-Diane Tuccillo
SLJ 4/1/05 Gr 4-7-Ty Cutter loves baseball, but he is just not cut out to play the game. He is awkward and tentative and totally unlike his sister, Daisy, who excels at anything she tries. Worse yet, he has been forced to play every inning during the Pee Wee League season while the more talented players warm the bench because his father, "the Professor," coaches the team. This novel takes readers from the top of the first inning to the wrap-up of a humiliating playoff game. Ty tells his story in between the play-by-play and converses with the only teammate who will speak to him-Daisy, the scorekeeper. Runs are scored, runners are called out, balls are caught while the siblings banter and discuss their father's bullying behavior and their views on life. The book is funny, poignant, and deeper than one might think at first glance. Its deceptively uncomplicated plot makes it a great choice for reluctant readers and certainly for baseball players and fans.-Denise Moore, O'Gorman Junior High School, Sioux Falls, SD Copyright 2005 Reed Business Information.
Booklist 3/15/05 Gr. 3-5. Told over the course of the last Pee Wee baseball game of the season for the Brewers of Babylon, Arizona, Jennings' novel lays out the inglorious career of narrator Tyrus Cutter. Although he has been named for Ty Cobb, 11-year-old Ty doesn't yet have the playing skills of his namesake, and he sees himself as a huge disappointment to his father, who is also his coach. Instead, Ty has mastered self-deprecating humor, which he delivers alternately from the dugout and right field. He distracts himself from suffocating heat and impending embarrassment with visions of Alaska, prayers for a rain-out, and conversations with his sister. Jennings captures both the petty tyrants some coaches become and the great drama of one baseball game, even at the Pee Wee level. On the field, Ty still trips on baseballs, but he gradually comes to understand what his wise, independent sister has been trying to tell him. The Brewers don't triumph in the last inning, nor is every strand of the story neatly resolved; but, as Ty Cobb used to say, baseball is not pink tea, and neither is real life. --Abby Nolan Copyright 2005 Booklist

PW 2/7/05 Jennings (The Beastly Arms) once again demonstrates his versatility with this novel for baseball fans and for those who are more comfortable in the stands than on the playing field. The author uses the span of a single Pee Wee League game to mine the dynamics of 11-year-old Tyr
or
Not Currently Available for Direct Purchase