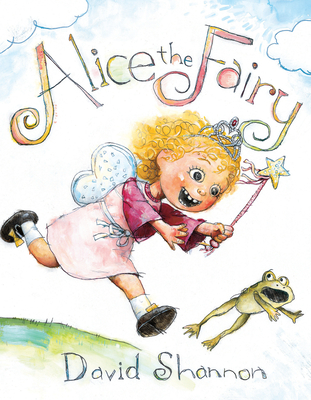 Alice the Fairy (Hardcover)
Blue Sky Press (AZ), 9780439490252, 40pp.
Publication Date: October 1, 2004
Description
Alice has a nose for trouble, but luckily she's a fairy--a Temporary Fairy. She has a magic wand, fairy wings, and a blanket, all of which she uses to disappear, to fly, to transform her dad into a horse, and to turn his cookies into her own! There are still a few things Alice needs to learn to become a Permanent Fairy, like how to float her dog on the ceiling and make her clothes put themselves away, but she's working on it--sort of. Here's an endearing, funny story about a girl and her magical imagination, sure to delight every fairy in training!
About the Author
David Shannon is the internationally acclaimed creator of more than thirty picture books, including No, David!, a Caldecott Honor Book and his second New York Times Best Illustrated Book of the Year, and three more David picture books. Shannon's bestsellers include A Bad Case of Stripes, Duck on a Bike, and his recent Bugs in My Hair. He lives in California with his family.
Praise For Alice the Fairy…
Horn Book Magazine
January 1, 2005

(Preschool, Primary) Alice the Fairy -- a "temporary" fairy with ambitions to become a permanent one -- has all sorts of tricks up her sleeve. She can make cookies disappear, make it dark in her house, and fly fast, but not high, with her wings. (Alice wishes she could avoid poisonous broccoli served by the "wicked duchess" and could take her baths in Jell-O, but her fairy powers are not that strong.) While her teeth are not as pointy and her behavior is not as naughty as her literary cousin, David (No, David!), there is definitely a physical resemblance that child readers will notice immediately: those enormous eyes radiate an unmistakably David-like energy (Alice's rambunctious games get her bouncing right off the page), and strawberry-blond corkscrew curls held in check by a dandy tiara cover a very round head. Readers of the David books might be initially disappointed that Alice is not as rude as he is, but they will enjoy the basic goodness, exuberance, and wild imagination of Shannon's latest character. Copyright 2005 of The Horn Book, Inc. All rights reserved.

Booklist
November 15, 2004

PreS. If Shannon's David is a little devil, Alice is on the angelic side (almost). Using the same oversize format that he did in books such as No, David! (1998), Shannon introduces young Alice, a fairy-in-training dressed up with wings, a wand, and patent leather shoes. Similar to David, she is drawn in doll-like style (though her teeth aren't sharp). Alice talks directly to her audience, informing them what fairies do and how she works her magic. One time my mom made cookies for my dad. So I turned them into mine, she says, as she eyes the plate of cookies; in the next picture the plate is almost empty, and there are crumbs all over Alice's face. A few of the analogies are a stretch (this fairy's life is filled with danger--in the form of broccoli), but kids will find most of the humor right at their level, in terms of both wit and imagination. The pictures are richly colored, some almost effervescent in their playfulness. A meeting between Alice and David would engender even more fun. --Ilene Cooper Copyright 2004 Booklist

School Library Journal
November 1, 2004

PreS-Gr 1-Donning a fairy costume inspires a little girl's imagination in this droll picture book. Alice speaks for herself, claiming she can fly (not too high but really fast), can change her dad into a horse (for a horsey ride), can make herself disappear (by flicking off the light switch with her wand), and can turn oatmeal into cake by pouring on fairy dust (sugar). There are elements of danger, such as broccoli poisoned by the wicked Duchess (Mom) and baths (fairies hate baths), as well as mischief ("-my mom made cookies for my dad. So I turned them into mine") and mishaps ("Once I accidentally turned my white dress into a red one"). Alice knows that Permanent fairyhood requires a lot of tests, attending Advanced Fairy School, and learning how to "make clothes get up off the floor and- line up in the closet," so she'll "probably be a Temporary fairy forever." With his signature cartoon-style art and childlike lettering, Shannon has created a winsome, exuberant heroine whose wide eyes and toothy smile bring David to mind, though Alice's blond ringlets are all her own. Variety in page and text layout and the use of brilliant color make the pictures dance and occasionally pop right off the pages. An enjoyable romp.-Marie Orlando, Suffolk Cooperative Library System, Bellport, NY Copyright 2004 Reed Business Information.

Publishers Weekly
October 11, 2004

Though one must attend Advanced Fairy School to become a "Permanent fairy," young Alice has earned her stripes as a "Temporary fairy," wielding a wand and a colorful imagination to brighten her days. Kids will instantly connect to Alice's ma
Advertisement