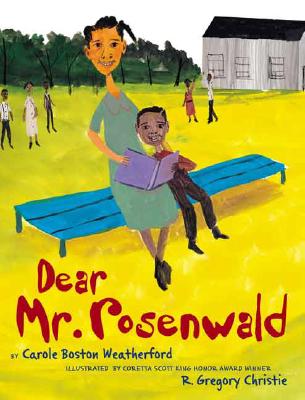 Dear Mr. Rosenwald (Hardcover)
Scholastic Press, 9780439495226, 32pp.
Publication Date: September 1, 2006
* Individual store prices may vary.
or
Not Currently Available for Direct Purchase
Description
Based on the true story of the Rosenwald schools built in the rural African-American South in the 1920s, writer and poet Carol Boston Weatherford tells the lyrical story of third grader Ovella as her family and community help each other build a new, and much-prayed for, school.
Inspired by Booker T. Washington, Julius Rosenwald, the son of an immigrant and the president of Sears, Roebuck and Co., donated millions of dollars to build schools for African-American children in the rural South. The local African-American community were required to raise matching funds, secure [cont'd]
Praise For Dear Mr. Rosenwald…
Kirkus Starred
Set in the rural south in the early 1920s, this terrific picture book uses evocative free verse to
describe the building of a school for black children using seed money from Julius Rosenwald, the
Sears catalog magnate. Weatherford explains how a Rosenwald grant worked: Local blacks had to
make significant contributions (including cash and land) and whites had to provide funds, too. The
daunting process is seen through the eyes of Ovella, the bright daughter of a close-knit family of poor
sharecroppers. The narrative includes other voices of integrity, among them a former slave, Miss Etta
May, who donates her burial money to the school so she can learn to read her Bible. Inspirational but
never sentimental, Weatherford tells how the White Oak School opened with used books from the
white school. Steeped in historical tradition, Christie's expressionistic, double-page spreads combine
simplified figures, flat expanses of bold color and big brushstrokes in a style that conveys the
emotional content of the story. The author's note highlights the importance of the Rosenwald schools
in fostering black pride yet references only one–albeit, primary–source. Accomplished yet
accessible, this is an important book for every library

BCCB Starred
It's 1921, and Ovella, the daughter of African-American sharecropeers, goes to school in an old church, a cold, leaky, rickety structure divided into two classrooms by a sheet. When news comes that Julius Rosenwald, the president of Sears, is responding to the call of the Tuskegee Institute's Booker T. Washington by donating money for school construction, the hopeful community digs deep to meet the requirements, finding land and raising money for matching funds. Soon the building goes up, a playground is constructed, and the proud community celebrates its new school. The kids' first assignment? A thank-you letter to Mr. Rosenwald.
Weatherford tells Ovella's story in fourteen free-verse poems narrated by Ovella herself, compactly conveying a life where hard work is an everyday reality and solvency is a dream always deferred. The book's second poem, "Sharecropping," imparts two pieces of news: that despite a good crop, the family is more in debt to their landlord than ever, and that there's a new baby on the way. Those strictures set up the key narrative question: "How on earth will poor people/ find money to give away?" What's important here, though, is not so much the how- selling crops from donated land, holding box parties, earmarking collection money at church- as the why- to find a concrete way to give these kids a better future. The church's donation of school land, "Land that would have been used for graves," goes instead for the future: "Now, a seed is sowed instead." Ovella's family has even more hope for this seed than the ones we grow, with Mama determinedly saying "This child will have a better chance" when baby sister Leona is born. Christie's sweeps of color convey the ramshackle nature of the current structures with their blotchy and uneven textures, while the people are vivid, intensely hues figures, grouped in strong configurations against the earthtoned landscape. The strong angles of building and roads that anchor many spreads are always punctuated and invigorated by large or small human groupings- by the people who created those very structures. The final spread celebrates both the new school, with its clean, solid walls, and the bell-ringing teacher who stands tall before it, summoning her students in and inspiring Ovella to follow in her footsteps.
Most contemporary American kids take schooling for granted, if they're not actively hostile. Between Christie's artistic vigor and Weatherford's quiet-spoken sincerity, this avoids becoming a preachy lesson about the importance of schooling, but the point is effectively mad
Advertisement