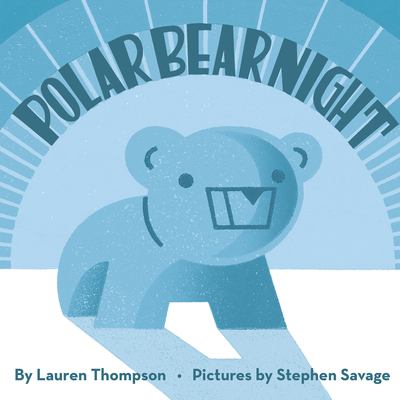 Polar Bear Night (Hardcover)
Scholastic Press, 9780439495240, 32pp.
Publication Date: September 1, 2004
Other Editions of This Title:
Board book (1/1/2013)
* Individual store prices may vary.
Description
A polar bear cub . . . A nighttime journey . . . A bedtime story of love and wonder.
One keen, clear night, a polar bear cub wakes inside her warm den. Something in the moonlit stillness quietly beckons. What is it?
The little cub sets out for the snow and sky and sea and ice, and the moon follows.
So begins a magical journey through a starlit world filled with love and wonder. Soothing words and luminous pictures make this nighttime tale as comforting as a goodnight kiss.
About the Author
Lauren Thompson is the author of many beloved picture books, including the iNew York Times/i bestseller iPolar Bear Night/i, its companion iPolar Bear Morning/i, and iThe Christmas Magic/i. She is also the author of the popular Little Quack and Mouse's First series. She lives in Brooklyn, New York, with her husband and their son. Visit her online at laurenthompson.net.

Stephen Savage is the author and illustrator of iWhere's Walrus?/i, which was named a best book of the year by iPublishers Weekly/i, iKirkus Reviews/i, the iHorn Book/i, and the iBulletin of the Center for Children's Books/i. He is also the illustrator of the acclaimed iNew York Times/i bestselling picture book iPolar Bear Night/i, written by Lauren Thompson, which was named a iNew York Times/i Best Illustrated Children's Book. When Stephen is not on the run, he lives in Brooklyn, New York, with his wife and their daughter.
Praise For Polar Bear Night…
Publishers Weekly STARRED
November 22, 2004
In Savage's striking compositions, a night lit by dazzling moonglow on "snow and sky and sea and ice" wakens a polar bear cub to a special adventure. Not knowing why she was somehow roused from sleep, where she lay next to her "warm, soft mother" in their den, the cub treks softly across the snow until she reaches a high drift. There, the cub witnesses a glittering star shower: "The stars are like snowflakes, falling, falling." After the natural light show, the cub heads back home and again snuggles into the warmth of her sleeping mother. Thompson's (Little Quack) phrasing emits a fittingly hushed quality and conveys a sense of wide-eyed wonder. Her nighttime Arctic imagery and soft repetition create a pleasingly soporific effect. Savage's (Making Tracks) crisp linocuts in a medley of icy bright blues, whites and purples and blacks contribute to a chilly yet soothing nocturnal landscape. The large shapes and frequent up-close perspective draw readers into the proceedings, while the rounded forms and friendly faces of various animals provide reassurance for the cuddly-looking cub in her wanderings. In Savage's velvety spreads, the darkness is quietly beautiful and never ominous. Ages 3-5. (Oct.) Copyright 2004 Reed Business Information.
Booklist
STARRED November 15, 2004
PreS-K. Joining Henkes' Kitten's First Full Moon BKL F 1 04 and Mo Willems' pigeon duet is another graphically minimalist yet utterly effective picture book for the very young. Snug inside her warm den, a polar bear cub wakes. Something in the moonlit stillness quietly beckons. What is it? The tug of this gentle mystery will draw children into Thompson's simple bedtime story, and the hypnotic ebb and flow of her alliterative lines (on a night that's keen and cold, little cub sets out for the snow and sky and sea and ice ) will keep children immersed as the young explorer encounters floating, dreaming sea creatures, and witnesses a meteor shower that further transforms the already exotic nighttime surroundings. As arresting as Thompson's language are Savage's powerful linocuts, which beautifully reference the textures and forms of Inuit stone carvings and evoke the arctic landscape in a few elemental colors per spread: glacial blues, grays, and sea greens; the pinks and lavenders of the aurora borealis. Like Henkes' kitten and Willems' pigeon, little cub harks back to an earlier, more technologically constrained era of bookmaking, when enduring classics were born of well-honed writing and thoughtful design rather than easy, glitzy effects. --Jennifer Mattson Copyright 2004 Booklist

KIRKUS 10/15/04 STARRED
Beckoned by a moonlit stillness, a polar-bear cub wakes up and sets out for the sky, sea, and ice. She passes sleeping walruses, seals, and whales and keeps walking and listening until she comes to a mountain of snow and then waits. The moon waits with her; suddenly a star shower falls down like snowflakes, lighting up all the mammals and the cub's snug den and sleeping mother. As the stars stop falling, shining as they too sleep, little polar bear is also ready for sleep and returns home. The broad-shaped linocuts in striking shades of nighttime blues, dark greens, and blacks are graphically enlivening and exciting. The simplicity in the art, text, and plot belie the deft craftsmanship, like carving an ice sculpture. This bedtime story will captivate young listeners; it sparkles just like ice crystals on a moonlit night. (Picture book. 3-5)
Horn Book Magazine
(November 1, 2004;
(Preschool) Bold linocut prints in cool blues offer visual tranquility in this soothing bedtime tale. A polar bear cub wakes suddenly in her cozy den. "Something in the moonlit stillness quietly beckons. What is it?" She sets out across the snow and ice, passing sleeping animals on the land and in the sea. Then a meteor shower begins, waking the walrus and seals and whales, lighting up "everything the little bear loves." Strong lines and simple shapes create clear images for young viewers as they follow the bear's journey over the cold nighttime landscape, gently lit with moon and stars. As the little cub returns to her mother, readers, too, will be ready to snuggle down to sleep. Copyright 2004 of The Horn Book, Inc. All rights reserved.

School Library Journal
(November 1, 2004;
PreS-Gr 1-With comforting, carefully chosen words and soft pastels shading linocut prints, this book has all the elements to make it a bedtime favorite. A polar bear cub leaves the security of her warm den to discover something special out in the cold arctic air. The words "The night is keen and cold" have both a visceral and riveting effect. The choice of colors for each page establishes the mood; as the little cub sets off into snow she finds a world shaded in pink and violet, with a deep black/green sky. The comfort is reinforced at the sight of the sleeping animals she encounters, and the repetition of phrases ("She sees the seals-. She sees the whales") keeps the rhythm going. Sharp edges pair easily with soft colors as the drama of the cub's outing builds to the climax of falling stars that light up the sky, the sea, and the animals. In fact, "They light up everything the little bear loves." When the stars stop falling, she's ready to go back home to her mother's "soft, warm fur." A successful and satisfying combination of adventure and bedtime story.-Jane Marino, Bronxville Public Library, NY Copyright 2004 Reed Business Information.
""The simplicity in the art, text, and plot belie the deft craftsmanship, like the carving of an ice sculpture."" -Kirkus STARRED
""Joining Henkes' Kitten's First Full Moon and Mo Willems' pigeon duet comes another graphically minimalist yet utterly effective picture book..."" -Booklist STARRED
""With comforting, carefully chosen words and soft pastels...this book has all hte elements to make it a bedtime favorite."" -SLJ