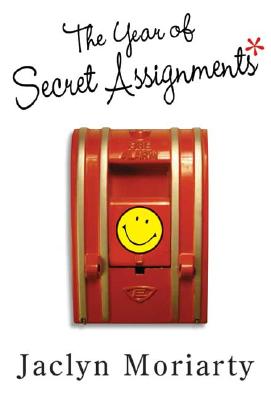 The Year Of Secret Assignments (Hardcover)
Arthur A. Levine Books, 9780439498814, 352pp.
Publication Date: February 1, 2004
* Individual store prices may vary.
or
Not Currently Available for Direct Purchase
Description
The Ashbury-Brookfield pen pal program was designed to bring together the "lowlife Brooker kids" (as they're known to the Ashburyites) and the "rich Ashbury snobs" (as they're called by the Brookfielders) in a spirit of harmony and the Joy of the Envelope. But things don't go quite as planned. Lydia and Sebastian trade challenges, like setting off the fire alarm at Brookfield. Emily tutors Charlie in How to Go On a Date with a Girl. But it's Cassie and Matthew who both reveal and conceal the most about themselves -- and it's their secrets and lies that set off a war between the two schools.
About the Author
Jaclyn Moriarty grew up in Sydney, Australia, with 4 sisters, 1 brother, 2 dogs, and 12 chickens. She studied law at the University of Sydney, Yale, and Cambridge, and worked as an entertainment lawyer before she wrote the Ashbury High novels, including THE YEAR OF SECRET ASSIGNMENTS, THE MURDER OF BINDY MACKENZIE, and THE GHOSTS OF ASHBURY HIGH. She still lives in Sydney, with her little boy, Charlie.
Praise For The Year Of Secret Assignments…
Voice of Youth Advocates
(June 1, 2004; 0-439-49881-3)

At first glance, Emily, Cassie, and Lydia are self-absorbed, Australian private school girls enjoying a lifelong friendship and a comfortable life. When their English teacher institutes a mandatory penpal program with a nearby public school, however, the girls' correspondence with Charlie, Seb, and Matthew starts to reveal their insecurities, strengths, and strong bonds to their loved ones. Charlie, Emily, Seb, and Lydia carry on an interesting repartee, which eventually leads to crushes and dates and secret assignments. Quiet Cassie, however, still grieving the loss of her father to cancer, takes part in a very different exchange. Her penpal, calling himself Matthew Dunlap, at first refuses to write, and then sucks Cassie into a web of lies with nearly devastating results. Emily and Lydia eventually come to her rescue, and with the help of Charlie and Seb, the group turns the tables on Cassie's miscreant correspondent. Told entirely in letters, e-mail messages, and journal and diary entries, this story is truly an original. Although the opening pages might lead the reader to believe that they are about to enter into a world of fluff, the characters are surprisingly well developed, and teens of both genders will become caught up in the lives and adventures of these six high school students. The author artfully weaves the correspondence of the three pairs into one fluid story and includes both humor and serious food for thought. Probably best for junior high students, the lack of sexual content and language makes this book a great choice for both school and public libraries.-Kimberly L. Paone.

Horn Book Magazine
STARRED (March 1, 2004; 0-439-49881-3)

(High School) From the author of Feeling Sorry for Celia comes a second comic novel about gal-pals--and pen pals--set in the same Australian high school and focusing once again on the Famous Ashbury-Brookfield Pen Pal Project. The novel follows private school students Lydia, Emily, and Cassie as they are assigned to write letters to students at Brookfield High, despite Emily's complaint to their English teacher that "it's probably against our constitutional rights to make us associate with drug dealers and murderers." The three girls have been friends 4-ever, but things haven't been the same between them since Cassie's father died a year ago, and Cassie gets even weirder once they begin writing to their pen pals, all boys. The novel--written entirely in letters, diary entries, e-mails, etc.--is fast and funny but not frothy. Moriarty's story is complex, original, and unpredictable enough that it's much more than a guilty-pleasure read. The format, along with the humor and romance, will draw Louise Rennison fans--and give them just as much flash, with a whole lot more substance. Copyright 2004 of The Horn Book, Inc. All rights reserved

School Library Journal
(March 1, 2004; 0-439-49881-3)

Gr 7-10-Lydia, Emily, and Cassie are longtime friends who share almost everything, especially the secret assignments that they have cooked up for one another in times of need since elementary school. When their English teacher assigns them pen pals (all boys) from rival Brookfield High, they strike out on their own to connect individually with their pen friends. Sebastian, Lydia's pal, is an artist who loves soccer and is intrigued by the covert assignments that she gives him. Emily's Charlie is a lot of fun and a true sweetheart, despite a few escapades such as stealing cars. Cassie's pen pal hates her and is rude and threatening. The story-told through journal entries, letters, e-mails, and notes-chronicles a year filled with spy missions, false alarms, lock picking, and a major war between the two schools that ends with a legal battle. The adventures of the friends are funny, exciting, and, at times, poignant as they deal with proble
Advertisement