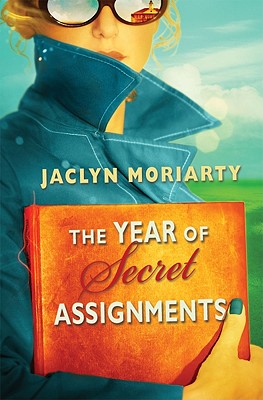 The Year of Secret Assignments (Mass Market Paperback)
Scholastic Paperbacks, 9780439498821, 352pp.
Publication Date: April 1, 2005
Other Editions of This Title:
Digital Audiobook (3/9/2008)
Hardcover (2/1/2004)
Prebound (4/1/2005)
* Individual store prices may vary.
Description
The Ashbury-Brookfield pen pal program is designed to bring together the two rival schools in a spirit of harmony and "the Joy of the Envelope." But when Cassie, Lydia, and Emily send their first letters to Matthew, Charlie, and Sebastian, things don't go quite as planned. What starts out as a simple letter exchange soon leads to secret missions, false alarms, lock picking, mistaken identities, and an all-out war between the schools--not to mention some really excellent kissing.
About the Author
Jaclyn Moriarty grew up in Sydney, Australia, with 4 sisters, 1 brother, 2 dogs, and 12 chickens. She studied law at the University of Sydney, Yale, and Cambridge, and worked as an entertainment lawyer before she wrote the Ashbury High novels, including THE YEAR OF SECRET ASSIGNMENTS, THE MURDER OF BINDY MACKENZIE, and THE GHOSTS OF ASHBURY HIGH. She still lives in Sydney, with her little boy, Charlie.
Praise For The Year of Secret Assignments…
Horn Book Magazine
STARRED (March 1, 2004; 0-439-49881-3)

(High School) From the author of Feeling Sorry for Celia comes a second comic novel about gal-pals--and pen pals--set in the same Australian high school and focusing once again on the Famous Ashbury-Brookfield Pen Pal Project. The novel follows private school students Lydia, Emily, and Cassie as they are assigned to write letters to students at Brookfield High, despite Emily's complaint to their English teacher that "it's probably against our constitutional rights to make us associate with drug dealers and murderers." The three girls have been friends 4-ever, but things haven't been the same between them since Cassie's father died a year ago, and Cassie gets even weirder once they begin writing to their pen pals, all boys. The novel--written entirely in letters, diary entries, e-mails, etc.--is fast and funny but not frothy. Moriarty's story is complex, original, and unpredictable enough that it's much more than a guilty-pleasure read. The format, along with the humor and romance, will draw Louise Rennison fans--and give them just as much flash, with a whole lot more substance. Copyright 2004 of The Horn Book, Inc. All rights reserved

School Library Journal
(March 1, 2004; 0-439-49881-3)

Gr 7-10-Lydia, Emily, and Cassie are longtime friends who share almost everything, especially the secret assignments that they have cooked up for one another in times of need since elementary school. When their English teacher assigns them pen pals (all boys) from rival Brookfield High, they strike out on their own to connect individually with their pen friends. Sebastian, Lydia's pal, is an artist who loves soccer and is intrigued by the covert assignments that she gives him. Emily's Charlie is a lot of fun and a true sweetheart, despite a few escapades such as stealing cars. Cassie's pen pal hates her and is rude and threatening. The story-told through journal entries, letters, e-mails, and notes-chronicles a year filled with spy missions, false alarms, lock picking, and a major war between the two schools that ends with a legal battle. The adventures of the friends are funny, exciting, and, at times, poignant as they deal with problems of growing up and developing relationships. This delightful book set in Australia is full of fun, engaging characters, and important messages about friendship.-Janet Hilbun, formerly at Sam Houston Middle School, Garland, TX Copyright 2004 Reed Business Information.

Publishers Weekly
(February 2, 2004; 0-439-49881-3)

Once again, Moriarty (Feeling Sorry for Celia) uses an epistolary format to bring to life the voices of contemporary teens. Best friends Lydia, Emily and Cassie attend Ashbury, an Australian private school. Their "year of secret assignments" begins when their English teacher pairs them with pen pals from neighboring Brookfield High, a rougher school where students "have more tattoos and prison time." Although the girls are a bit wary about writing to strangers, their correspondence with boys their age spawns some interesting, often hilarious exchanges of confidences that lead to a series of clandestine meetings and daring escapades. Lydia and Emily form solid bonds with their pen pals, Seb and Charlie, but more vulnerable Cassie has trouble relating to her partner, a mysterious, cynical boy named Matthew, who (according to Seb and Charlie) does not exist. This energetic novel reveals the author's keen understanding of teen dynamics and invites audience members to read between the lines to discover what makes each character tick. Containing elements of mystery, espionage, romance and revenge, Moriarty's story will likely satisfy hearty appetites for suspense and fun. Ages 12-up. (Feb.) Copyright 2004 Reed Business Information.
Booklist
(January 1, 2004 STARRED)

Gr. 8-12. In her debut for youth, Mori
or
Not Currently Available for Direct Purchase