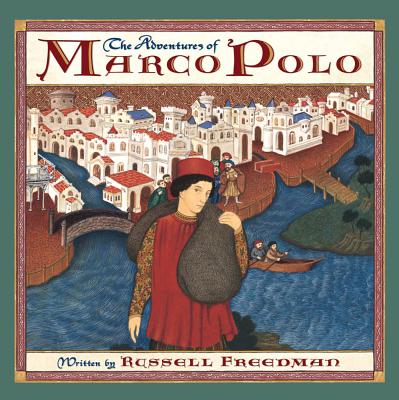 The Adventures Of Marco Polo (Hardcover)
Arthur A. Levine Books, 9780439523943, 64pp.
Publication Date: October 1, 2006
* Individual store prices may vary.
Description
He claimed to have seen rocks burn, bandits command sandstorms, lions tamed with a look, and sorcerers charm sharks while divers gathered pearls on the ocean floor. Marco Polo shook Europe with descriptions of the world he'd seen on his epic journey to the court of Kublai Khan.
But was Marco Polo the world's most accomplished explorer? Had he really seen the "Roof of the World" in Central Asia, and the "City of Heaven" in far-off China? Or was he a charlatan who saw nothing more than the conjurings of his inventive mind? Join Russell Freedman as he tackles a centuries-old mystery.
About the Author
Russell Freedman is a nonfiction writer who prefers to be called a "factual author." He says that's because lots of people think "nonfiction" is less interesting and less important than fiction. Freedman tries to stamp out that myth with every book he writes.

Freedman chooses only topics that he is interested in and wants to learn more about. He likes to write about people in history who have character traits that stand out and make them memorable.

Freedman is the author of 44 books including Lincoln: A

Photobiography, for which he won the 1988 Newbery Medal; and

The Wright Brothers: How They Invented the Airplane, for

which he won the 1992 Newbery Honor.

Linas Alsenas, 2001 Harvard University graduate in History of Art and Architecture, grew up with his two older siblings and two parents. Author of Peanut (2007) and Mrs. Claus Takes a Vacation (2006), Linas plans to continue writing and illustrating books for children and young adults. He currently lives in Sweden with his partner and their pet parrot named Oliver.

Bagram Ibatoulline was born in Russia and educated at the Moscow State Academic Art Institute. He has illustrated many books for children, including THE ADVENTURES OF MARCO POLO by Russell Freedman, and CROW CALL by Lois Lowry. Bagram lives in Gouldsboro, Pennsylvania.
Praise For The Adventures Of Marco Polo…
HB
This handsome volume -- with faux-aged paper, archival prints, original art reminiscent of the Middle Ages, and gold leaf decorating the jacket -- resembles a fourteenth-century manuscript, an appropriate aesthetic for a book about Marco Polo. Freedman sets his focus by posing two questions: "Did he really travel to China and beyond, as he claimed? Or was he, in fact, 'the man of a million lies'?" Freedman provides necessary background by writing of Polo's experiences and using liberal quotes from Polo's own Description of the World. Some descriptions seem fanciful, but Freedman asks readers to consider Polo's provincial point of view. Perhaps the creatures Polo encountered in Yunnan Province -- "snakes" that walked on legs and could eat a man -- were actually crocodiles, an animal unknown in Europe. But such fantastic images, as well as Polo's tendency toward self-aggrandizement, his habit of usurping the accounts of others, the numerous abridgments, and a litany of things he did not report, also address the larger question of the journey's veracity. An author's note suggests more complex resources on the Polo debate. Also included are notes about the art (referencing specific illustrations) and an index. B.C.

Booklist Starred

The name Marco Polo evokes images of faraway travels and exotic treasures: silks and spices, gold and jewels. Newbery Medal winner Freedman takes readers along on Polo's journey in a book that is as beautiful as many of the sights the explorer observed. It begins at Polo's deathbed, his family begging him to confess his exaggerations. Even some contemporary scholars don't believe Polo went to China, but many observers think most of his tales were true. Using Polo's own descriptions (as told to a writer he met in prison), Freedman shepherds readers across deserts, down the Silk Road, and over mountains until the adventurer reaches the magnificent kingdom of Kublai Khan. Supporting Freedman's informative yet evocative prose are enchanting illustrations. Ibatoulline follows the historic journey with art inspired by different periods--for instance, he uses illuminated manuscripts as the basis for the European scenes. The original artwork is complemented by many historic illustrations, some from editions of Polo's Description of the World. The meticulous art notes call attention to the lack of text source notes, although Freedman does include an extensive, informative author's note about Polo's claims. With its thick, mottled pages and attractive design, this is a glorious piece of bookmaking; readers will find it a pleasure to explore. ¬¬--Ilene Cooper

SLJ Starred
Gr 5-9–In an age when critics obsess about the blurred line between fact and fiction, Freedman prepares readers for ambiguity right from the contents page. "Nothing But the Truth" is both the title of his first chapter and a phrase pulled from Polo's book, The Description of the World. Apparently the Venetian's own family doubted the veracity of his version of the 24-year, 6500-mile journey to and sojourn in Kublai Khan's court and begged him to recant on his deathbed. The chapter "Did Marco Polo Go to China?" presents current scholarship challenging the nobleman's claims, as well as plausible counterarguments. In between, readers find a flavor of the adventurer's early and final years, descriptions of treacherous mountain excursions and raging sandstorms, and details of the splendor and sophistication of Xanadu, where Polo served as envoy to the emperor. The accounts are accompanied by original and archival illustrations and maps; extensive endnotes provide further documentation. Many of the illuminated manuscripts come from various editions of Polo's book; they span several centuries. Ibatoulline's handsome single-page paintings appear at the beginning of each chapter, anchoring the telling, even while the artistic conventions adapt to the culture being depicted. The calligr
or
Not Currently Available for Direct Purchase