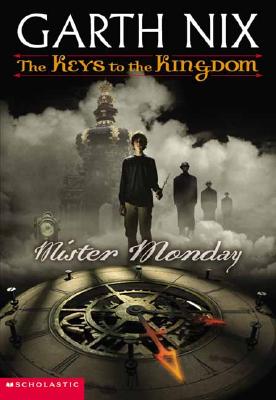 Mister Monday (Paperback)
Scholastic, 9780439551236, 361pp.
Publication Date: July 1, 2003
Other Editions of This Title:
Digital Audiobook (7/7/2003)
Audio Cassette (7/8/2003)
Paperback (5/1/2005)
Compact Disc (1/10/2006)
Paperback (11/1/2005)
CD-Audio (3/9/2010)
* Individual store prices may vary.
Description
Seven days. Seven keys. Seven virtues. Seven sins. One mysterious house is the doorway to a very mysterious world -- where one boy is about to venture and unlock a number of fantastical secrets. This is another thrilling, triumphantly imaginative series from Garth Nix, the best-selling author of THE SEVENTH TOWER, SABRIEL, and LIRAEL.
About the Author
Garth Nix is the New York Times best-selling author of the Seventh Tower series, as well as the acclaimed novels SABRIEL, LIRAEL, and ABHORSEN. He lives in Sydney, Australia, with his wife and children.
Praise For Mister Monday…
Voice of Youth Advocates
(February 1, 2004; 0-439-55123-4)

Arthur Penhaligon's first day at a new school is marked by a nearly fatal asthma attack. In fact, the attack should have been fatal, but a key shaped like the minute hand of a clock that somehow helps him to breathe saves Arthur. Shortly after, strange-looking people pursue Arthur as a mysterious plague breaks out. As Arthur enters a huge house that only he can see, searching for a cure for this plague and for the mysterious Mister Monday, the adventure is launched. Nix's creativity spills over in the fast-paced engrossing plot. The House is a massive universe populated by Ink Fillers, giants, eerie and evil mechanical creatures, the robot-like Commissionaires, and Mister Monday's attendants, Dawn, Noon, and Dusk. The characters are interesting and complicated, particularly those in the House; Arthur is never sure whom he can trust, and the various quirks will keep readers guessing. Arthur seems a bit aloof at times or else impatient with his task, but he is clever, resourceful, and resilient, and he truly proves his heroism. The opening prologue is a bit on the obscure side, but encourage any dubious readers to get beyond it because this novel is a fresh, original start to an exciting new fantasy series.-Donna Scanlon.


School Library Journal
(December 1, 2003; 0-439-55123-4)

Gr 5-8-Arthur Penhaligon's school year is not off to a good start. On his first day, he suffers an asthma attack while running cross country and dreams that a mysterious figure hands him a key shaped like the minute hand of a clock. However, when he wakes up, he still has the key. That's when strange things begin to happen. Mister Monday dispatches terrifying, dog-faced Fetchers to retrieve it, a bizarre sleeping illness sweeps the city, and only Arthur can see the weird new house that appears in his neighborhood. The seventh grader knows it all has something to do with the key, one of seven elusive fragments of the Will to which he has become heir apparent, and a mysterious atlas. When he ventures inside the house, he meets more strange characters than he could have imagined, none of whom are what they seem. And, of course, he must battle Monday, who will do anything to get the key back. With the help of the key, Arthur must fight his way out. The first in a seven part series for middle graders is every bit as exciting and suspenseful as the author's previous young adult novels. Readers will eagerly anticipate the sequels.-Ginny Collier, Dekalb County Public Library, Chamblee, GA Copyright 2003 Reed Business Information.

Publishers Weekly
starred (July 28, 2003; 0-439-55123-4)

In this first volume in Nix's (Sabriel) Mister Monday series, magic splashes across virtually every page. First, a brief, cryptic prelude tells of "the Will" that has been kept under cosmic lock-and-key by generations of Inspectors and their robotic sentries. Next, readers meet seventh-grader Arthur Penhaligon, an asthmatic adoptee who is struggling to fit in at his new school. Nix quickly thrusts Arthur into the heart of the mystery: while recovering from an asthma attack during gym class, Arthur is given a mysterious Key and Atlas from Mister Monday, an ominous wheelchair-bound man (mentioned in the prelude). The Key resembles the minute hand of a clock, and is actually a powerful talisman, tied to the clock-like device that guards the Will. Before long, Fetchers, strange dog-faced creatures, attempt to recover the key, and unleash a disease upon humans that threatens massive casualties. Arthur sets out to stop the Fetchers at the source, and ends up exploring a cavernous house visible only to him (it's 4,000 stories high, a girl inside tells him). Here the surreal story becomes even more puzzle-like and visually ornate-a sort of amalgam of Alice in Wonderland and The Phantom Tollbooth. Nix's grand explan
or
Not Currently Available for Direct Purchase