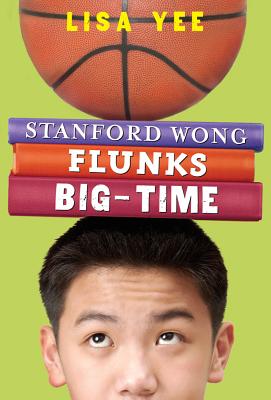 Stanford Wong Flunks Big-time (Hardcover)
Arthur A. Levine Books, 9780439622479, 304pp.
Publication Date: September 1, 2005
Other Editions of This Title:
Paperback (4/1/2007)
* Individual store prices may vary.
Description
Stanford Wong is having a bad summer. If he flunks his summer-school English class, he won't pass sixth grade. If that happens, he won't start on the A-team. If *that* happens, his friends will abandon him and Emily Ebers won't like him anymore. And if THAT happens, his life will be over. Then his parents are fighting, his grandmother Yin-Yin hates her new nursing home, he's being "tutored" by the world's biggest nerdball Millicent Min--and he's not sure his ballpoint "Emily" tattoo is ever going to wash off. (cont. on next page)
About the Author
Lisa Yee's novels include Millicent Min, Girl Genius; Stanford Wong Flunks Big-Time (an ALA Notable Book); the first Bobby book, Bobby vs. Girls (Accidentally); and most recently WARP SPEED. She lives in South Pasadena, California, with her family. Please visit her website at www.lisayee.com.
Praise For Stanford Wong Flunks Big-time…
Kirkus 10/1/05
Yee's companion to Millicent Min, Girl Genius (2003) tells the story of the same pivotal summer that Millicent tutors Stanford Wong–but this time through Stanford's eyes. Although the story is again laced with humor and told in the first person, 11-year-old Stanford is more of a regular kid, and therefore by necessity his voice is more regular too, lacking the hilarious perspective of his socially clueless but intellectually gifted contemporary. Yee compensates by giving her likable protagonist numerous comic tribulations. His biggest is that he failed English and must attend summer school supplemented by Millicent's tutoring. His scholastic problems are further complicated by a difficult home life–a disapproving father, constantly fighting parents and his concern over his increasingly addled but full-of-heart grandmother. He also has several self-generated troubles, specifically lies he told that, in order to keep from being found out, require numerous gyrations to protect. Parts of the story seem drawn out and not all of the complications are credible, but overall readers should find this story amusing, enjoyable and finally touching. (Fiction. 8-12)

PW 11/7/05
Fans of Millicent Min, Girl Genius, have a chance to take a closer look at Millicent's nemesis, Stanford Wong, in this winsome companion novel told from Stanford's point of view. Here, behind Stanford's pesky exterior, readers will discover a complicated, vulnerable and lovable hero, whose summer after sixth grade begins on a sour note. After flunking English class, Stanford must give up his opportunity to go to a prestigious basketball camp in order to attend summer school. To add insult to injury, his parents have hired brainy Millicent (whom they both greatly admire) to be his private tutor. Meanwhile, tensions rise in Stanford's home due to Mr. Wong's recent obsession with work and Mrs. Wong's suggestion that Stanford's beloved but forgetful, live-in grandmother, Yin-Yin be placed in a nursing home. During a summer filled with painful growing experiences, Stanford learns there is more to life than basketball as he struggles to win his father's acceptance, falls in love for the first time and develops surprising loyalties to much taunted Millicent and the "Teacher Torturer," who flunked him. Upon finishing this book, those who have already opened their hearts to Millicent will find room to include Stanford too, and will likely want to know how both will fare in the upcoming school year
Booklist 11/15/05
\\\\\\\\Yee, Lisa. Stanford Wong Flunks Big-Time. 2005. 256p. Scholastic/Arthur A. Levine, $16.99 (0-439-62247-6).
Gr. 4–7. Yee, who won the 2004 Sid Fleischman Humor Award for Millicent Minn, Girl Genius (2003), offers an equally funny sequel, switching viewpoints to Stanford Wong, who, after flunking sixth-grade English, must forgo celebrity basketball camp for summer school and afternoon tutoring with Millicent. During their sessions, the former adversaries grudgingly discover that they have more in common than just their grandmothers, who are best friends, and each helps the other move through messy predicaments grounded in their own embarrassment and lies. Yee weights the lively sparring between her young characters (and Stanford's new crush on Millicent's friend) with Stanford's worries at home: his grandmother, recently placed in a nursing home; his parents' fights; and his remote, overworked father, who never seems pleased. Young readers will find themselves chortling over comedic scenes, delivered in Stanford's genuine, age-appropriate voice, even as the well-drawn, authentic heartache about family, friends, and integrity reaches directly into their lives. Young sports fans, particularly boys, will appreciate a portrait of a wholly likable underachiever in the classroom who shines on the court. –Gillian Engberg


SLJ 12/1/05
YEE, Lisa. Stanford Wong Flun
or
Not Currently Available for Direct Purchase