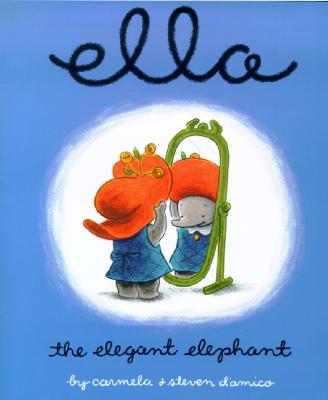 Ella The Elegant Elephant
Hardcover

* Individual store prices may vary.
Description
Ella's counting the days until the first day of school ... but not because she's eager to start! On the contrary, as the littlest elephant on Elephant Island, she's terribly nervous about the other kids she'll meet. Then she receives a beautiful red hat that belonged to her grandmother -- her new lucky charm. Big mean Belinda at school teases her for it, calling her "Ella the Elegant Elephant." But Ella's brave enough to hold on to her hat, and in the end, the hat (and her heart) save the day.

With warm, rich pictures and a charming main character, ELLA is sure to be a new favorite.
Praise For Ella The Elegant Elephant…
"A young elephant is new to town and anxious about starting school. On her first day, she wears her grandmother's fancy "good luck hat," causing a bully named Belinda and her friends to dub her "Ella the Ella-gant." When Belinda slips on the safety wall that surrounds the schoolyard and protects the students from a very big drop, Ella attempts a rescue only to slip and fall herself. Fortunately, the lucky hat acts as a parachute, transporting Ella and Belinda to safety. The next day, the entire class, bullies included, sports fancy hats, and a message on the chalkboard reads, "We love Ella." With its charming and whimsical cartoons and simple design, this offering seems like a picture book from an earlier era. Ella is a likable character, and children will be able to relate to her emotions. Unfortunately, the story is nothing new and the text may be a bit long for some youngsters. Despite these shortcomings, parents who are nostalgic for Jean de Brunhoff's The Story of Babar (Random, 1937) will appreciate the D'Amicos's kinder, gentler elephant tale." -- School Library Journal

"On the Elephant Islands, "hidden by fog so thick no human being has ever found them," shy little elephant Ella, new to town, worries about school and making friends. Ella loves her big red hat, a special gift from Grandma, but wearing it the first day of school brings teasing, especially from big bully Belinda. But when Belinda's antics put her in a dangerous situation, Ella steps in to help--and is surprised to discover that her hat is more special than she thought. Combining a fairy-tale quality with elements in story and setting that will be familiar to children, this has a charming protagonist, as well as lovely, whimsical art, in a soft, rich palette and style that evokes the work of H. A. Rey and recalls Ludwig Bemelmans' Madeline in its rows of students clad in identical blue uniforms and "Ecole" written over the school gate. The text is simple, descriptive, and often lively, making a good read-aloud. Listeners will sympathize with Ella's challenges and appreciate the rewards that come from her showing compassion and staying true to herself." -- Booklist

"Followers of Jean de Brunhoff and Ludwig Bemelmans may experience deja-vu upon reading the D'Amicos' debut. Ella, a Madeline-ish young elephant, possesses a WWII-era flair and lives in a faraway realm: "Somewhere in the great, wide Indian Ocean lie the Elephant Islands, hidden by a fog so thick that no human being has ever found them." Ella's rocky islands protrude from the ocean like terra-cotta turrets, topped with multicolored minarets. Inside this exotic city, bipedal elephant villagers shop at whitewashed, clay-roofed stores like a "Tuskery" and peanut emporium. On her first day at the island "ecole," Ella wears a navy-blue uniform like her peers, but chooses to sport her grandmother's "good luck hat," a floaty flame-orange number that trumps her classmates' austere caps: "The teacher asked if she wouldn't mind sitting... in the back row, so she wouldn't block the other students' view of the chalkboard." Ella's fashion statement soon attracts a bully's attention. Only at recess, when a mishap atop the city wall reveals the hat's magical, parachute-like properties, does Ella achieve acceptance. The memorable characters and setting transform a familiar tale of nonconformity; Steven D'Amico's soft, sinuous colored-pencil line and plush palette recall H.A. Rey's illustrations. The Elephant Islands would make a promising locale for future adventures, and the appealing Ella-who's simply drawn yet unique, like Charles M. Schulz's Woodstock-could easily adapt to new stories and multimedia." -- Publishers Weekly

"A pint-sized pachyderm learns the value of self-reliance in this winsome husband-and-wife debut. When Ella is bequeathed her grandmother's "good luck hat," she finds it a good source of Dutch courage for dealing with the twin foes of grade-school drama: being the new kid and coping with the class bully. While the author's fantastical tale relies on a bit of whimsy to pull Ella through her perilous moments, the true message is Ella's remarkable ability to remain true to herself. The illustrator's full-color illustrations have a distinctly Arabian feel, depicting an exotic pachyderm haven ("somewhere in the great, wide Indian Ocean") filled with tropical hues and domed-topped towers. As a throng of elephants all dressed in dark navy uniforms (and Ella in her hat) diligently files into the school gates labeled "Ecole," astute observers may recognize a somewhat tongue-in-cheek reference to that other blue-suited heroine, Madeline. The D'Amicos' tale offers a gentle reassurance to readers that despite the trials of grade-school dilemmas, it will all turn out well in the end. Ella is a stand-out." -- Kirkus


Arthur A. Levine Books, 9780439627924, 56pp.
Publication Date: September 1, 2004
About the Author
Carmela D'Amico grew up with the modest goal of trying her hand at everything once. As of today, she's completed about 32% of her mission. Meanwhile, she documents her interest in everything under the sun by writing kids books, young adult fiction, essays, poems and anything else that strikes her fancy.

Steve D'Amico began drawing dinosaurs and superheroes at the age of five and was the cartoonist for his high school newspaper. Eventually he became Senior Art Director at Seattle-based Smashing Ideas where he designed and illustrated numerous games and websites for kids. Steve is the illustrator of several children's books, including the award-winning Ella The Elephant books, which became an animated TV series in 2014. He continues to illustrate and has two new books due out in 2015.