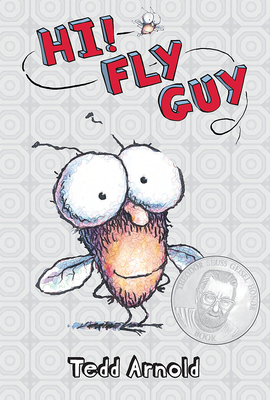 Hi, Fly Guy! (Fly Guy #1) (Hardcover)
Cartwheel Books, 9780439639033, 32pp.
Publication Date: September 1, 2005
Other Editions of This Title:
Digital Audiobook (8/31/2008)
Paperback (2/1/2006)
Prebound (9/1/2006)
* Individual store prices may vary.
Description
From bestselling author/illustrator Tedd Arnold, creator of PARTS and GREEN WILMA, comes the hilarious FLY GUY! It's easy to read and it comes with a shiny foil cover!

"A fly was flying. He was looking for something to eat. Something tasty. Something slimy. A boy was walking. He was looking for something to catch. Something smart. Something for The Amazing Pet Show."

The boy and fly meet and so begins a beautiful friendship. Er, and so begins a very funny friendship. Using hyperbole, puns, slapstick, and silly drawings, bestselling author/illustrator Tedd Arnold creates an easy reader that is full of fun. With an eye-catching holographic cover. This is the first in a series of four.

About the Author
Tedd Arnold is the author and illustrator of the bestselling Fly Guy series and the illustrator of more than 60 books, including DETECTIVE BLUE. He has received Theodor Seuss Geisel Honors for HI! FLY GUY and I SPY FLY GUY! Tedd lives with his wife, Carol, in upstate New York.
Praise For Hi, Fly Guy! (Fly Guy #1)…
PW
HI! FLY GUY
Author: Arnold, Tedd

Review Date: JULY 15, 2005
Publisher:Cartwheel/Scholastic
Pages: 32
Price (hardback): $5.99
Publication Date: 9/1/2005 0:00:00
ISBN: 0-439-63903-4
ISBN (hardback): 0-439-63903-4
Category: CHILDREN'S
Pest—or Pet? A fly changes some minds in this diminutive tale—first, by astounding the lad who captures him in a jar ("BUZZ!" "You know my name! You are the smartest pet in the world!"), then, thanks to some fancy flying, by convincing the lad's parents and ultimately even the judges of the Amazing Pet Show that he's more than just a nuisance. A pop-eyed, self-confident mite in Arnold's droll cartoon illustrations, Fly Guy's up to any challenge, whether it be eating a hot dog (well, most of it, anyway), or performing amazing aerial acrobatics; readers drawn by the flashy foil cover will stick around to applaud this unusually capable critter. Any similarity to Ezra Jack Keats's Pet Show! (1972) is surely coincidental. (Picture book. 6-8)

Kirkus
Hi! Fly Guy
Tedd Arnold. Scholastic/Cartwheel, $5.99 (32p) ISBN 0-439-63903-4
A fly went flying," opens Arnold's (Parts) brief, playful tale, structured in three chapters. At the same time, "A boy went walking." The winged fellow is looking for food and the boy is searching for a critter for the upcoming Amazing Pet Show. The two equally and comically bug-eyed beings meet when the fly collides with the human hero's nose ("boink") and the lad captures it in a glass jar. After the infuriated insect stomps his foot and says, "Buzz!" the amazed boy replies, "You know my name! You are the smartest pet in the world!" Buzz shows his new pet, which he names Fly Guy, to his parents; his father announces that flies are pests and grabs a swatter—until the sly fly lands on Buzz's nose and calls him by name. In one of the book's funniest pictures, Fly Guy is dwarfed by the hot dog Buzz places in his jar, most of which he happily consumes. Though the pet show judges tell Buzz that flies don't qualify as pets, Fly Guy rises to the occasion and wows the judges with various feats, clinching the prize for smartest pet. Suitably wacky cartoon art accompanies the text, which is simple enough for beginning readers ready to soar to a chapter-book format. Ages 4-8. (Sept.)
BCCB
A fly out flying encounters a boy out looking for a pet, and it's a match made in early-reader heaven
. The fly apparently knows the boy's name-Buzz-which endears the insect to his new master (and his
skeptical parents). Buzz takes Fly Guy, as he's named his new pet, to the Amazing Pet Show, where
clever Fly Guy wins over doubting judges with his ability to say his master's name and perform tricks
. The story ends pretty abruptly, but this is aimed squarely at an audience with only slightly more
reading stamina than the common housefly anyway; the controlled vocabulary (with a few more
challenging words thrown in) and frequent repetition add to the ease of access. The look is edgy
, especially the cover's motion-effect iridescent graphics, with the interior art sporting Arnold's
trademark bulbous-eyed caricatures textured with hairy squiggles; Buzz, who has the stocky solidity of
a trash can, is actually rather more taciturn than the hyper-expressive Fly Guy, whose antics steal the
show. Novice readers, particularly those unmoved by cuddlier stories, will welcome the doriy wit of
this oddball-pet saga. DS

SLJ ARNOLD, Tedd. Hi! Fly Guy! illus. by author. 30p. CIP. Scholastic/Cartwheel. 2005. Tr $5.99. ISBN 0-439-63903-4. LC 2004020553.
K-Gr 2–A boy goes out searching for a smart animal to take to "The Amazing Pet Show" and bumps into a fly that is intelligent enough to say the child's name, "Buzz." Although his parents and the jud