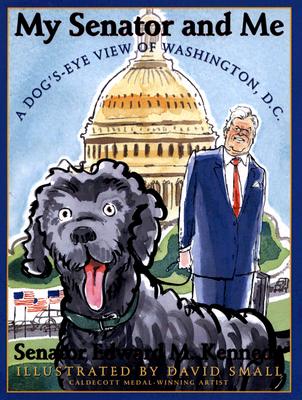 My Senator and Me (Hardcover)
A Dog's Eye View of Washington, D.C.: A Dog's Eye View Of Washington, D.C.
Scholastic Inc., 9780439650779, 56pp.
Publication Date: May 1, 2006
Other Editions of This Title:
CD-Audio (10/1/2010)
* Individual store prices may vary.
Description
Living legends Ted Kennedy and David Small team up to provide a smart, funny, and affectionate look at life in our nation's capital from the perspective of the senator and his very perceptive dog.

There's an old saying: "If you want a friend in Washington, get a dog." A few years ago, Senator Ted Kennedy decided to do just that.
Now his beloved Portuguese Water Dog Champion Amigo's Seventh Wave (nicknamed Splash) is the most famous canine on Capitol Hill. Here we follow Senator Kennedy and Splash through a busy day in D.C., from press conferences to meetings with school groups to committee discussions to a floor vote. The result is an exciting, behind-the-scenes look at the life of one of the most energetic figures in American politics -- and, of course, his equally famous owner.
About the Author
Edward M. Kennedy represented Massachusetts in the United States Senate for forty-seven years. He took a special interest in matters that involved education and health care for children.

David Small won the 2001 Caldecott Medal for So You Want to Be President by Judith St. George. His many books include The Gardener, The Friend, George Washington's Cows, Imogene's Antlers and Hoover's Bride. He is also the illustrator for Russell Hoban's The Mouse and His Child. His most recent title is My Senator and Me: A Dog's Eye View of Washington D.C, written by Senator Edward M. Kennedy.

After receiving a Master of Fine Arts degree from Yale, David Small taught drawing and printmaking on the university level for 14 years. He lost his job in the 1980s due to cutbacks. This brought both a crisis and a commitment to begin working on combining his love of art and writing. Submitted to more than 20 publishers, his first book Eulalie and the Hopping Head was eventually published in 1982.

Small works with watercolor, pen and ink, and pastel. His later works have a much softer look, but they continue to include his trademark attention to small details that beg to be poured over again and again. Growing as an artist is important to Small. He feels he has not yet done his best work, and enjoys challenging himself with new ideas, styles and media.

Small lives in Mendon, Michigan, with his wife, the writer Sarah Stewart.



Praise For My Senator and Me: A Dog's Eye View of Washington, D.C.: A Dog's Eye View Of Washington, D.C.…
PW Starred
Enthusiastically and endearingly narrated by Splash, Senator Kennedy's Portuguese Water Dog, this spry tale features suitably airy, often comical ink-and-watercolor illustrations by Caldecott Medalist Small (So You Want to Be President- ). The bright-eyed canine introduces his beloved master, exclaiming, "The wonderful people of Massachusetts have elected and reelected him to the Senate for more years than I can even count!" Text and art strike a wry note as a skeptical Kennedy shakes hands with well-heeled folk at a gala-their toothy smiles clearly phony-as Splash reiterates the adage, "If you want a friend in Washington, get a dog." With Small's help, Splash offers a breezy tour of Washington, D.C.'s key monuments and buildings, bragging that he knows the city "like the back of my paw." The pooch then describes highlights of a day in the life of a working dog: riding the underground tram from the Senate office building to the Capitol (Small pictures the pooch with wide-eyed anticipation); posing for a photo with students, barking to silence a group of bickering Senators and Representatives trying to negotiate two versions of an education bill, and expressing displeasure at being barred from the Senate chamber ("I've seen plenty of Senators, and they don't behave any better than I do!"). Biographical sketches of Kennedy and Splash and a succinct explanation of how a bill becomes a law conclude this amusing, informative account, certain to win the votes-and hearts-of dog-loving kids. Ages 4-8.(May)

Booklist
Gr. 2–4. In this high-spirited if low-angled trot through the congressional halls of power, Splash (a Portuguese water dog, for those who dote on such details) follows his senatorial companion through a typical day. Interspersed with such highlights as a romp on the Capitol's lawn and a ride on the underground tram that runs between the Capitol and the office building, the day features a press conference, photo ops, a heated conference committee discussion about an education bill, and an important vote. In sketchy watercolor views of, first, the puppy farm, and, later, the Capitol Hill area, Caldecott winner Small tones down his customary caricatures (though not entirely) to match the narrative's light, amiable tone. Capped by a précis of the legislative process, this book is a natural companion for So You Want to Be President (2000). –John Peters


or
Not Currently Available for Direct Purchase