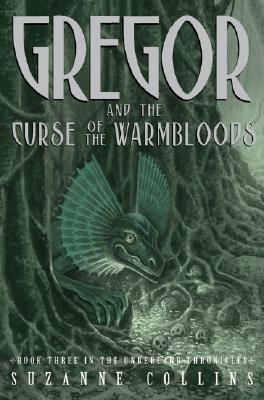 The Underland Chronicles #3: Gregor and the Curse of the Warmbloods (Hardcover)
Gregor and the Curse of the Warmbloods
Scholastic Press, 9780439656238, 368pp.
Publication Date: July 1, 2005
* Individual store prices may vary.
or
Not Currently Available for Direct Purchase
Description
Book Two left off with Gregor reading the Prophecy of Blood: a prophecy that calls for Gregor and Boots to return to the Underland to help ward off a plague. But this time, Gregor's mother refuses to let Gregor return to the Underland... until the rat Ripred assures the family that Gregor and Boots are needed only for a short meeting, which the crawlers will attend only if their "princess" Boots is present. Gregor's mom finally relents, but on the condition that she go with them so they aren't out of her sight. The Underland plague is spreading, and when one of Gregor's family (cont'd)
About the Author
Suzanne Collins' debut novel, Gregor the Overlander, the first book in The Underland Chronicles, received wide praise both in the United States and abroad. The series has been a New York Times bestseller and received numerous accolades. Also a writer for children's television, Suzanne lives with her family in Connecticut.
Praise For The Underland Chronicles #3: Gregor and the Curse of the Warmbloods…
Kirkus Reviews
June 15, 2005
For the third time, Gregor and his stolid little sister Boots desend to the Underland in fulfillment of a prophecy, in a story that delivers the breakneck adventure and strong characters readers have come to expect. The Curse of the Warmbloods, it turns out, is a terrible plague that threatens every mammal in the Underland. On their perilous journey to a cure, the questing party (which readers will be delighted to find includes the wonderfully caustic rat Ripred), encounters both Luxa, erstwhile, Queen of Regalia, along with her bat Aurora, and Hamnet, Luxa's long-lost uncle, who has fled humankind to escape its warring ways. Collins keeps the plot moving at warp speed and includes just enough background to bring readers up to speed on the multitude of characters and the political rivalries that unite and divide them. This offering takes on an even darker tone than the earlier ones, delving into meaty questions of territorial expansion and its justification. Although no further prophecy is unveiled at the end to explicitly promise another sequel, readers will surely be hoping for one.

Horn Book
June 6, 2005
Just a few months after his previous adventure in Gregor and the Prophecy of Bane ,(rev. 9/04), Gregor,, almost twelve, finds himself deciphering another enigmatic prophecy from the Underland, "a dark war-torn world miles beneath New York City." In this gripping fantasy novel, Gregor and his two-year-old sister Boots embark on their third epic quest in the strange subterranean land, this time to help find a cure for the deadly plague that threatens to wipe out all "warm-bloods"; i.e., mammals. Gregor cares deeply for a number of the Underiand's pale, violet-eyed humans and giant rats and bats, and his mission takes on even more personal urgency when his mother (who, ill-advisedly, has insisted on joining her children in the Underland) is bitten by a plague- infected flea. This immensely readable installment won't disappoint fans of the first two books. In fact, Collins seems to have hit her stride with this page-turner. Character development, plotting, pacing, and description all shine; suspenseful chapter endings propel the story forward to its shocking and sobering conclusion. Battle-weary Gregor and young Boots must leave their mother behind when they return to our world, making the promise of a future visit all the more compelling. K.F.Book Inc.

School Library Journal
July 2005
Gr 4-7-This third book continues the saga of Gregor's adventures in the amazing subterranean world under New York City. This time the 11-year-old is trying to save victims of an Underland plague, including Ares, his giant bat bond-mate, and Gregor's own mother. The quest for the cure takes the boy and his friends into new sections of the Underland where plants are carnivorous and a giant lizard serves as a guide. The Overlander is again joined on his quest by Boots, his toddler sister; Ripred, the rat; and Temp, the giant cockroach. As before, the quest is guided by a prophecy that only becomes clear in the later stages of the book. Collins maintains the momentum, charm, and vivid settings of the original title. The characterizations continue to be complex with each new book, revealing new sides to familiar individuals. Fans of this inventive series and new readers alike will be instantly caught up in the action and will look forward to future installments.-Tasha Saecker, Caestecker Public Library, Green Lake, WI

Booklist. 7/1/05 This third installment of the Underland Chronicles picks up right where Gregor and the Prophecy of BaneG (2004) left off. Eleven-year-old Gregor is busy at
home in Manhattan deciphering the Prophecy of Blood that calls for him and his younger sister, Boots, to return to the Underworld to find the cure for a terrible plague that threatens all of its warm-blooded inhabitants. Gregor's
Advertisement