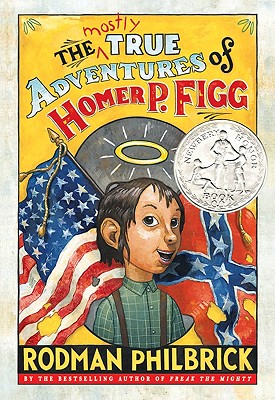 The Mostly True Adventures of Homer P. Figg (Hardcover)
Blue Sky Press (AZ), 9780439668187, 224pp.
Publication Date: January 1, 2009
Description
Master storyteller Rodman Philbrick takes readers on a colorful journey as young Homer Figg sets off to follow his brother into the thick of the Civil War. Through a series of fascinating events, Homer's older brother has been illegally sold to the Union Army. It is up to Homer to find him and save him. Along the way, he encounters strange but real people of that era: two tricksters who steal his money, a snake-oil salesman, a hot-air balloonist, and finally, the Maine regiment who saved Little Round Top at the Battle of Gettysburg and won the war for the Union. (copy continues)
These historical people and places will educate and engage young readers about our nation's past--in one of the most decisive moments of American history. In Homer's inspiring fight to track down his brother, Philbrick brings us another groundbreaking novel.
Funny, poignant, entertaining, and tragic, The Mostly True Aadventures of Homer Figg will be embraced and heralded by readers and reviewers alike. A magnificent novel by one of the best fiction writers of our century.
About the Author
Rodman Philbrick is the author of six award-winning novels for young readers. His first novel, Freak the Mighty, won the California Young Reader Medal. It was received with great acclaim and has sold more than a million copies. The sequel, Max the Mighty, received starred reviews, and his novel The Fire Pony was named a 1996 Capital Choice. His more recent books for the Blue Sky Press are REM World; The Last Book in the Universe, which was named an ALA Best Book for Young Adults; and The Young Man and the Sea, which received a starred review from School Library Journal. He and his wife live in Maine and the Florida Keys.
Advertisement