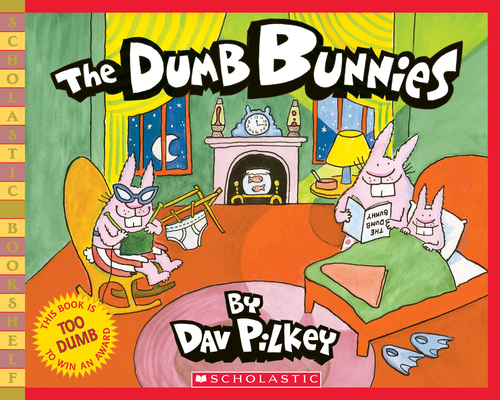 The Dumb Bunnies (Scholastic Bookshelf) (Paperback)
Scholastic Paperbacks, 9780439669443, 32pp.
Publication Date: February 1, 2005
* Individual store prices may vary.
Description
Category: Humor
Meet the Dumb Bunnies.They eat lunch in a carwash. They go bowling in a library. And they ice-skate on the bottom of a lake. Everything the dumb bunnies do is REALLY dumb - but lots of fun.
When an intruder sneaks into the bunnies' house, this spectacularly stupid family is stumped. See what happens to their unwelcome guest and laugh yourself silly!
About the Author
DAV PILKEY is the creator of many acclaimed children's books, including Dogzilla, Kat Kong, god bless the gargoyles, and the bestselling Captain Underpants series. His book The Paperboy received a Caldecott Honor. He lives in the Pacific Northwest. www.pilkey.com
DAV PILKEY is the creator of many acclaimed children's books, including Dogzilla, Kat Kong, god bless the gargoyles, and the bestselling Captain Underpants series. His book The Paperboy received a Caldecott Honor. He lives in the Pacific Northwest. www.pilkey.com
DAV PILKEY is the creator of many acclaimed children's books, including Dogzilla, Kat Kong, god bless the gargoyles, and the bestselling Captain Underpants series. His book The Paperboy received a Caldecott Honor. He lives in the Pacific Northwest. www.pilkey.com