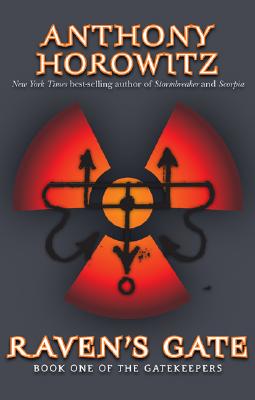 The Gatekeepers #1 (Hardcover)
Raven's Gate: Raven's Gate
Scholastic Press, 9780439679954, 256pp.
Publication Date: June 1, 2005
* Individual store prices may vary.
Description
Matt is being punished for a crime he saw, but didn't commit. Instead of being locked up, he is being sent to the middle of nowhere to live with a new foster mom, as part of a government scheme called The Leaf Project. But Matt's new home provides anything but peace and quiet. His new guardian is involved in very sinister things . . . and the whole town seems to be on her side. Everybody who tries to help Matt winds up disappearing . . . or dead. The truth is much bigger than Matt or the town -- but Matt is the only person who can stop the ultimate evil from being unleashed.
About the Author
Anthony Horowitz is the New York Times bestselling author of The Gatekeepers series, Raven's Gate, Evil Star, Nightrise, and Necropolis, as well as the Alex Rider series, which includes Stormbreaker, Point Blank, Skeleton Key, Eagle Strike, Scorpia, Arc Angel, and Snakehead. He lives in London.
Praise For The Gatekeepers #1: Raven's Gate: Raven's Gate…
VOYA 10/1/05

Raven's Gate by Anthony Horowitz .

In the first installment of his new Gatekeepers series, Horowitz moves from the action-thriller genre in his Alex Rider series to action-supernatural. Matt is a fourteen-year-old orphan in trouble with the law, and the magistrate who hears his case decides to enter him into a special project that sends juvenile offenders to live in the country with foster parents. Almost immediately Matt wishes that he had been sent to a perfectly normal juvenile detention center. Something is very odd about the village of Lesser Mailing. Roads lead nowhere, a dead cat reappears alive and well, voices whisper at night, and something is going on in the woods. It gradually becomes clear that a great battle between good and evil is brewing, and Matt is wanted by both sides, although for different reasons.
Horowitz does a great job of ratcheting up the tension and building to an exciting climax at the site of an ancient gate between worlds. His writing is fast paced and entertaining, despite occasional inconsistencies and abrupt changes in point of view, sometimes even within the same paragraph. Younger teens who like an exciting adventure mixed with supernatural horror will thrill to Matt's story and look forward to the next installment.




School Library Journal
July 2005
Gr 9 Up-Matt is in serious trouble. He's been involved in a robbery where a man was stabbed, and he now has to choose between jail or a new program that places juvenile offenders with community members. Suddenly he is moving to Lesser Malling and finding out about his chores on Mrs. Deverill's farm. There is something sinister about his new foster parent and the town. The teen stumbles across a murdered man who disappears by the time he returns with the police, an old broken-down nuclear-reactor plant that hums and glows at night, and suspicious activities at the farm. As things become more and more frightening, Matt is forced to find an ally and try to escape the bodies that are piling up around him and the evil that is taking over Lesser Malling. Horowitz departs from his popular teen spy series and turns up the horror in this first installment in a new series. The creepy activities and the overall atmosphere of fear are well defined, and once the action starts, it doesn't let up. People are stabbed with sickles, dinosaur skeletons return to life to attack Matt and his ally, and the protagonist is subjected to strange spells and potions that keep him from discovering the true reason he has been brought to this remote town. This powerful struggle between good and evil is a real page-turner.-Lynn Evarts, Sauk Prairie High School, Prairie du Sac, WI

PW- 6/20/05 Horowitz (the Alex Rider series) unveils a thoroughly creepy new tale with this first entry in the Gatekeepers series. The novel opens as 14-year-old Matt Freeman reluctantly helps an older friend break into a warehouse. A frequent truant (he has lived with his aunt since his parents were killed in a car accident), Matt's problems grow exponentially worse when he finds himself charged as an accessory to assault after his friend stabs a security guard during the failed burglary. Matt is offered a chance to participate in the LEAF Program (Liberty and Education Achieved Through Fostering), which sends troubled youths to rural settings where "there are fewer temptations." In the custody of severe, stern Mrs. Deverill, Matt must clean the pigsty among other chores. But his tasks pale compared to the gathering threat in the village of Lesser Malling. Though he tries to escape, Matt finds his attempts thwarted by unseen forces, and he soon realizes that his presence in Lesser Malling is no accident. Among Mrs. Deverill's belongings he makes a chilling discovery: "The photograph was black-and-white, taken with a telephoto lens.... With a sense of horror and sic
or
Not Currently Available for Direct Purchase