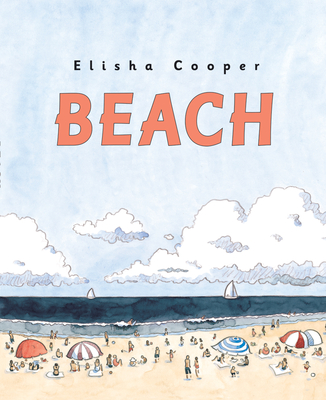 Beach (Hardcover)
Orchard Books (NY), 9780439687850, 40pp.
Publication Date: June 1, 2006
* Individual store prices may vary.
or
Not Currently Available for Direct Purchase
Description
"Away to the beach! Away to sand and salt water, to rolling dunes and pounding waves."
A day at the beach supplies any child with a lifetime of memories. In this new picture book by award-winning author Elisha Cooper, the simple magic of building sand castles, collecting seashells, and running from the waves is brought to life through poetic text and lively illustrations. Together, readers will be able to visit the beach year-round as they share this delightful book.
About the Author
Elisha Cooper is the award-winning author of FARM, which received starred reviews in THE HORN BOOK MAGAZINE and PUBLISHERS WEEKLY, and BEACH, which won the 2006 Society of Illustrators Gold Medal. Other picture books include A GOOD NIGHT WALK, MAGIC THINKS BIG, and DANCE!, a NEW YORK TIMES Best Illustrated Book of the Year. Elisha Cooper lives with his family in New York City. For more information, go to www.elishacooper.com.
Praise For Beach…
Kikrus Starred Review
Another charmer from Cooper, who, with his signature impressionistic, diminutive figures and scenes, delivers a perfect day at the beach, observing people, paraphernalia and nature. Panoramic views appose Lilliputian visual narratives- a woman pulling a wagon packed with toys and kids, a boy pretending he's a sea turtle as the waves carry him out, kids building a sand castle and a dog barking at waves. People are depicted like embellished artists' wooden movable figures, jointed but anamorphous in detail, and the simple daubs of paint generate motion like a handful of animation cels or a flip book. Masterful page composition creates a cinematic effect by panning from double spreads of the far-reaching vista to close-up pages of layered tiers of miniature dioramic scenes that are both graceful and fluid. As soothing and satisfying as the spray from dancing waves, sand between your toes and sun-warmed, waist high water, this is as close as you can get to the beach without getting wet. As daylight ebbs, the beach empties but leaves behind "a day to remember when the beach is far away."

PW
Like Cooper's other picture books (Baseball ;Building ), this surfside exploration combines a prosaic text with loose, cartoon-like figures that detail the activities a careful observer can notice about a particular place. "Away to the beach! Away to sand and salt water, to rolling dunes and pounding waves," begins the straightforward narrative. Three vertical panels depict an empty stretch of beach, which gradually fills with people. Like the labeled illustrations in Richard Scarry's word books, several pages feature a plethora of tiny watercolor-and-pencil sketchbook drawings with one-sentence captions: "A woman changes into her swimsuit under her towel.... Two sisters fill buckets with sand and start building a sculpture.... Seagulls watch everything, hovering until made to move." Another spread brims with intriguing images of cloud shapes. The small, faceless figures resemble sophisticated drawings of an artist's wooden model positioned in various poses, as the scenes progress from early morning until dusk. But the text reads like commentary on an artist's notebook, with neither a conflict nor a plot to keep young readers involved. It may be more suitable as a meditation for older beachgoers. Ages 3-5.(June)

Booklist
KGr. 2. Cooper creates a paean to the pleasures of a day spent near, on, and in the water. Generous double-page spreads, which extend a full 20 inches across, convey an expansive sense of the sand and sky, and show the beach as it fills with bathers engaged in a variety of activities. Even the sky becomes crowded as clouds roll in. The pleasantly fluid watercolors, given definition by thin brush lines, work better on the panoramic double-page spreads than on pages with multiple vignettes, which, despite brief descriptive captions, lack enriching details. Even so, the book successfully evokes the fun and feeling of a day at the beach and the myriad things that can and do happen at the shore. Use this with John Burningham's humorous Time to Come Away from the Water, Shirley (1977). John Stewig
Horn Book

Very few picture book creators dare to be as quiet as Elisha Cooper. Despite the large trim size and opening line ("Away to the beach!"), Cooper's Beach is not a place for exclamation points and action verbs. Beginning at daybreak and ending at sunset, we watch from a distance as people arrive, put up umbrellas and blankets, and settle in for the day. Cooper's loose pencil-and-watercolor art leaves out the faces, but the body positions and gestures of his people provide all the visual information we need for complete character studies. Spreads vary from long-lined horizons showing time slowly passing to close-ups of people, shells, or pebbles. This tribute to the seashore prompts Cooper's strongest text to date; each time it
Advertisement