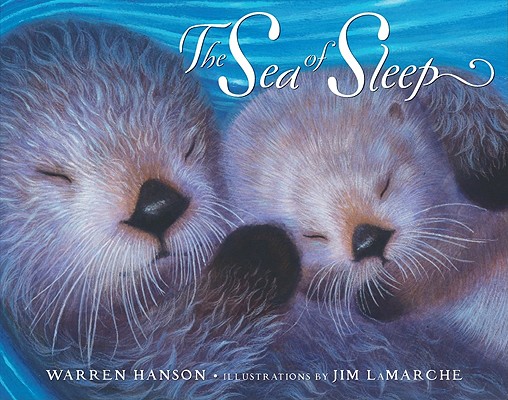 The Sea of Sleep (Hardcover)
Scholastic Press, 9780439697354, 32pp.
Publication Date: December 1, 2010
Description
A mesmerizing voyage into the nighttime sea--with spectacular, affecting paintings by bestselling artist Jim LaMarche and bestselling author Warren Hansen!


Baby Otter is sleepy after a long day of play. Now he cuddles in his mama's arms as calm, silvery waters rock him gently toward sleep.
But there are many wondrous things to see before he gets there. They drift past leaping dolphins and schools of swimming fish. And there's the loving, beaming moon, who rests her friendly face on the water's sparkling surface. All the while, jewel-like stars light their way as they glide through the night toward morning.
About the Author
Warren Hanson is an artist, writer, speaker, and musician. His book THE NEXT PLACE (1997) has sold more than 600,000 copies. He is the illustrator of Tom Hegg's classic A CUP OF CHRISTMAS TEA, the PEEF series, and many others. And he is a popular speaker for adult groups and elementary schools. He has spoken at reading and literacy conferences across the country, presented programs for hundreds of church groups, volunteer banquets, and other gatherings, and has enlightened and delighted tens of thousands of schoolchildren. Warren is a native of Yankton, South Dakota. He now lives and works in Houston, Texas.

Jim LaMarche is an award-winning illustrator of many beloved books, including THE RAINBABIES, which earned him international acclaim. His illustrations "indicate a deep kind of thinking about illustration in children's books," said the NEW YORK TIMES. He also illustrated THE CAROUSEL and ALBERT, which were both named NEW YORK TIMES Best Illustrated Books. He lives with his family in Santa Cruz, California.
Advertisement