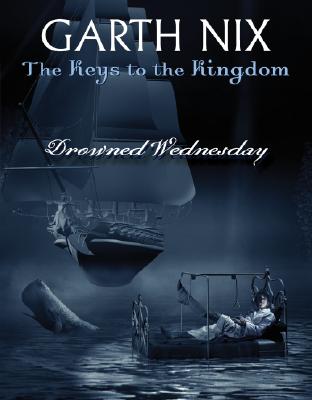 Drowned Wednesday (Hardcover)
Scholastic Press, 9780439700863, 400pp.
Publication Date: March 1, 2005
Other Editions of This Title:
Paperback (6/26/2018)
Paperback (3/1/2006)
Prebound (3/1/2006)
Paperback (11/1/2005)
Compact Disc (3/9/2010)
* Individual store prices may vary.
Description
Everyone is after Arthur Penhaligon. Strange pirates. Shadowy creatures. And Drowned Wednesday, whose gluttony threatens both her world and Arthur's. With his unlimited imagination and thrilling storytelling, Garth Nix has created a character and a world that become even more compelling with each book. As Arthur gets closer to the heart of his quest, the suspense and mystery grow more and more intense....
About the Author
Garth Nix is the New York Times best-selling author of the Seventh Tower series, as well as the acclaimed novels SABRIEL, LIRAEL, and ABHORSEN. He lives in Sydney, Australia, with his wife and children.
Praise For Drowned Wednesday…
School Library Journal
July 2005
Gr 5-8-This third volume in the series also marks its hardcover debut (with simultaneous reissues of the first two books in hardcover). Arthur is in the hospital, recovering from the events of Grim Tuesday (Scholastic, 2004) and trying to explain things to his friend Leaf while apprehensively awaiting the "transport" promised in Lady Wednesday's invitation. His fears are more than realized; the ship from the House takes Leaf but leaves Arthur adrift on the Border Sea. He finds temporary refuge on a buoy-but it's a treasure marker for the dreaded once-human pirate Feverfew, and Arthur is marked as a thief and is in mortal danger. He is rescued by a comic bunch of salvagers from Wednesday's domain, and from them Arthur begins to understand that Wednesday is very different from the other Days he has met. Moreover, she has become a monstrous but tragic leviathan. Seafaring adventure follows; Arthur must elude Feverfew even while breaking into his stronghold, a bubble of the Secondary Realms concealed in Wednesday's stomach where Leaf and hundreds of denizens enslaved by Feverfew are held captive. Feverfew is the real villain here, and Arthur is finally accepting (albeit reluctantly) that he must be a hero. This is another great entry with a cliff-hanger ending. It doesn't stand alone, but it's a must-have for anyone who has the first two entries in this well-crafted, exciting series.-Karyn N. Silverman, Elizabeth Irwin High School, New York City
Booklist 7/1/05
One senses a formidable imagination in freefall in Nix's Keys to the Kingdom series, and exeriencing it can be at once exhilarating and overwhelming. In this third of seven planned installments, each set on a successive day of a single week, Arthur Penhaligon is summoned from his hospital bed by Lady Wednesday, who has metamorphosed into a 126-mile-long whale. Burdened with asthma, a broken leg, and still-fresh shock at how inextricably his fate is tied to the House (the "epicenter of the Universe"), Arthur plies the Border Sea in search of the Third Part of the Will. The conclusion melds Pinocchio and 20,000 Leagues under the Sea, bringing into play a fearsome pirate, mercenary rats, a ship incompetently crewed by accountants, and allies old and new, human and otherworldly. New readers may find the back story about Arthur's quest to vanquish the Morrow Days and to reassemble the Architect's Will frustratingly esoteric, but those who appreciated the freewheeling invention of Mister Monday (2003) and Grim Tuesday (2004) will emerge from the third book with enthusiasm unabated. -Jennifer Mattson

Timnah Card (The Bulletin of the Center for Children's Books, June 2005 (Vol. 58, No. 10))
Having just had his broken leg set in a super-resilient new cast, young Arthur Penhaligon (from Mister Monday, BCCB 1/04, and Grim Tuesday) is whisked away to the Border Seas to confront the third of the Morrow Days, who are powerful rulers of a magical alternate universe called the House (and who correlate to the seven deadly sins). Summoned to lunch with Drowned Wednesday, Arthur is accidentally lost at sea atop his floating hospital bed, his feisty friend Leaf taken in his place. Touching a painted buoy (marking buried treasure) leaves Arthur's hands a permanent red and incurs the wrath of Feverfew, a ferocious pirate who pursues Arthur through parallel universes, enslaving all in his path, including Leaf. Aided by a second-rate sorcerer and a band of civilized, mercantile rats interested in scientific discovery, Arthur evades Feverfew and keeps his appointment with the vast Lady Wednesday, who was cursed with incurable gluttony and who now cruises the Border Seas as a gigantic white whale. Briefly resuming her human form, Wednesday offers Arthur a deal: she will give him the Third Key, a potent token of power, if he will find the Will (stolen by the other Days) and then use the Key to heal her. This pan
or
Not Currently Available for Direct Purchase