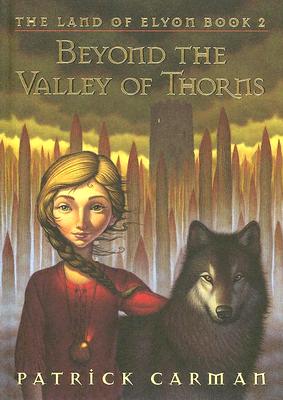 Beyond the Valley of Thorns (Hardcover)
Orchard Books (NY), 9780439700948, 220pp.
Publication Date: September 1, 2005
* Individual store prices may vary.
or
Not Currently Available for Direct Purchase
Description
Alexa thought her troubles were over when she defeated the man who had threatened to bring down Bridewell from within. But now that the walls around her land have fallen, a new, unexpected threat has risen from outside. Suddenly, Alexa is involved in a battle much, much larger than her own life . . . a battle in which she is destined to play a key role. In order to help good defeat evil, Alexa and her friends must venture farther than they've ever gone before -- confronting giants, bats, ravenous dogs, and a particularly ghoulish mastermind in order to bring back peace.
About the Author
Patrick Carman is the bestselling author of numerous series for young readers, including The Land of Elyon, Elliot's Park, Skeleton Creek, Atherton, Trackers, Dark Eden, and 3:15. He got his start as a storyteller weaving bedtime tales for his two daughters. He lives in Walla Walla, Washington, with his family.
Praise For Beyond the Valley of Thorns…
Kirkus 9/1/05
Alexa Daley and her father return to the walled city of Bridewell, where Mr. Daley has more strictures for Alexa's behavior than ever. Nevertheless, Alexa leaves Bridewell through its underground tunnels led by Yipes, her tiny companion from Dark Hills Divide. Instructions in a letter from Warvold lead them in a quest to free the dead leader's wife from imprisonment in the Dark Tower on the other side of the eponymous valley. Gutsy Alexa centers this story, always ready to foster cooperation and accept help from well-intentioned friends, be they human or animal. Animal characters take an active and effective role in the adventure. The plot takes off a lot faster than in the first installment, because Carman integrates the backstory as needed in the text, rather than allowing it to slow down the pace. Although the resolution of this tale satisfies, it ends on a cliffhanger, leaving readers to wait in suspense for the story's finale. Still, a trip with Alexa Daley through the Valley of Thorns is well worth the effort. (Fiction. 10-12)
SLJ 10/1/05
CARMAN, Patrick. Beyond the Valley of Thorns. 221p. (The Land of Elyon Series). map. Scholastic/Orchard. 2005. Tr $11.99. ISBN 0-439-70094-9. LC number unavailable.
Gr 4-6Mystery and adventure entwine in this second book in the series. Alexa and her odd companions (two men, one of whom is two feet tall; a squirrel; a wolf; a hawk; and a giant) share suspenseful and horrific experiences, such as escaping the Black Swarm (hundreds of deadly bats) and running from zombielike ogres on flame-covered hills with only jagged rocks and the Lonely Sea below. Dangerous scenes such as these lend excitement and fear as the group attempts to defeat Abaddon, an evil ogre who asserts his murderous will through lesser ogres and bats while chained in a great pit at the edge of the Tenth City. Carman provides enough background information for those who have not read the first installment. The text is poetic, full of childlike wonder, and well written, but the occasional lapse in action may make this novel unsuitable for some reluctant readers. These adventures seem daunting at times to mischievous Alexa, but fantasy fans will eagerly join in her quest.Jessi Platt, Auburn Public Library, AL
Voice of Youth Advocates
(December 1, 2005; 0-439-70094-9; 978-0-439-70094-8)

In the second volume of The Land of Elyon series, thirteen-year-old Alexa Daley returns to Bridewell, scene of her previous adventure. With the walls around the road down, the forest seems at once more free and less protected, and even though Ganesh, her former nemesis, is gone, Alexa has the haunting feeling that all is not well. It really comes as no surprise when she hears knocking from behind the secret door in the library and finds herself again on the road with Yipes, the dwarf, his friend John Christopher, a wolf named Odessa, Murphy the squirrel, and Squire the hawk. What does surprise her is the nature of her quest: She must take the last Jocasta, a magical stone, and free the land of Castalia from evil Victor Grindall and his ogres. In the process, she loses friends, makes new ones, is reunited with loved ones she thought dead, and discovers that her tasks have just begun. Compared to The Dark Hills Divide (Orchard, 2005/VOYA April 2005), this volume seems a bit static. Even though the action is unrelenting, less time is taken with characterization. Few fantasy books would benefit from greater length, but this one could use a slightly more leisurely pace and a little more depth. Regardless it is still creditable fantasy for the elementary and middle school crowd, and readers of the first volume will snap it up and eagerly await the promised third volume.-Ann Welton.
Advertisement