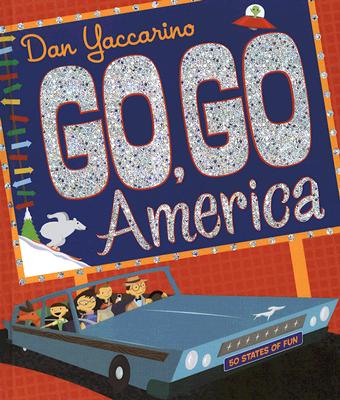 Go, Go America
50 States of Fun
Hardcover

* Individual store prices may vary.
Description
What state's official cookie is the chocolate chip cookie?
What state hosts the International Rotten Sneaker Contest?
Which state is it illegal to enter with a chicken on your head?
To find the answers to these questions and hundreds more, just hitch a ride with the fabulous Farley family--Mom, Dad, Freddie, Fran, and Fido--as they travel state to state and discover far-out festivals, kooky contests, ludicrous laws, peculiar people, and oodles of oddities across America. So fasten your seat belt and get ready to go, go through fifty states of fun!
Snappy, often humorous facts fill each page along with Yaccarino's bold, colorful, quirky illustrations. Also included are maps and cleverly designed backmatter with information every kid needs: state mottos, state flowers, state birds, state trees, state nicknames, etc. This is a rollicking road trip to be visited again and again by readers of all ages on the go, go.
About the author:
Dan's inspiration for this book came from the road trips he took with his own fabulous family as a kid. He says, "I spent a lot of time in the back seat of the family station wagon with my brother and sister as our family traveled the East coast on many road trips. I have amazing memories of touring Colonial Williamsburg in Virginia, eating frogs' legs in Georgia, and watching gator wrestling in Florida."
These days, Dan travels with his wife and two children to many of the very same destinations. He's even caught himself shouting, "Don't make me pull this car over!"
Scholastic Press, 9780439703383, 80pp.
Publication Date: April 1, 2008
About the Author
Dan Yaccarino is the creator of numerous award-winning children's books (including Unlovable), magazine illustrations, painting exhibitions, and animated television series (including Oswald the Octopus). His work has been enjoyed by millions of adults and children around the world. He lives in New York City with his wife, two children, and his vintage toy collection. To learn more about Dan, visit his Web site: yaccarinostudio.com
or
Not Currently Available for Direct Purchase