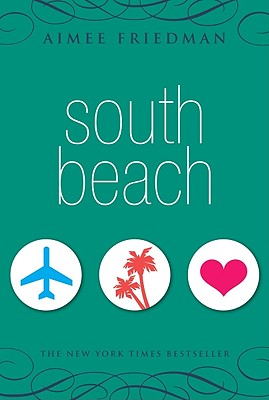 South Beach (Paperback)
Scholastic Paperbacks, 9780439706780, 336pp.
Publication Date: March 1, 2005
* Individual store prices may vary.
Description
SPRING BREAK. SOUTH BEACH. 'NUFF SAID.On a trip to a place where anything can happen -- and does -- two ex-best friends discover that a chance encounter can lead to the chance of a lifetime.HOLLY: Dream date or bad fate? She wants true love--and a break from her strict parents. Perhaps a spring fling will do? ALEXA: Flirting with destiny or flirting with disaster? The guy of her dreams turns out to be her friend's first love. How far is she willing to go? This year, Spring Break is going to be scandalous!
About the Author
Aimee Friedman is the New York Times bestselling author of Sea Change, The Year My Sister Got Lucky, South Beach, French Kiss, Hollywood Hills, A Novel Idea, and Breaking Up. Born and raised in Queens, Aimee now lives in Manhattan.
Praise For South Beach…
Kliatt
Amanda MacGregor (KLIATT Review, November 2005 (Vol. 39, No. 6))
16-year-old Alexa is looking for a little excitement in her life. Tired of her boyfriend Tyler, who she find naïve, safe, and entirely too nice, Alexa breaks up with him and cancels their spring break plans. Shocked to find herself now with no place to go for break, she calls up her old best friend Holly. The girls decide to hit South Beach, Florida and try to revive their friendship. Their trip is barely underway before both Alexa and Holly are questioning why they ever thought this was a good idea. With little in common anymore except for the memories of a faded friendship, they must struggle to get along and overcome their differences. When a boy comes between them, they realize they are more alike than they think. Good girl Holly dabbles in Alexa's more free-spirited lifestyle, and Alexa finds herself wanting something more than just a good time. South Beach is just as predictable and vapid as the cover makes it look, riddled with spoiled kids who drink, smoke, and hook up indiscriminately with everyone of the opposite sex they meet. Fortunately, the likeable Holly keeps the story interesting and Alexa, who initially seems one-dimensional, becomes a more compelling character. This will appeal to fans of Haley Abbott, Melissa de la Cruz, and Zoey Dean. Category: Paperback Fiction. KLIATT Codes: S--Recommended for senior high school students. 2005, Scholastic, 318p., $8.99. Ages 15 to 18.
or
Not Currently Available for Direct Purchase