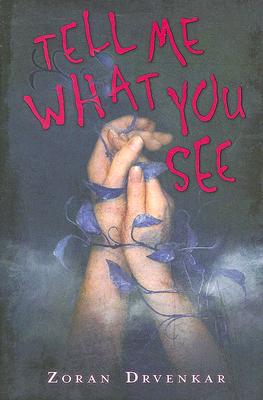 Tell Me What You See (Hardcover)
Chicken House, 9780439724524, 290pp.
Publication Date: November 1, 2005
* Individual store prices may vary.
or
Not Currently Available for Direct Purchase
Description
Berlin, Christmas, the dead of night: 16-year-old Alissa and her best friend, Evelin, are making their annual secret pilgrimage to the grave of Alissa's father when Alissa falls through thick snow to land in an underground crypt. There she finds a child's casket...with a strange black plant growing up through its lid. Opening the coffin, she severs the dark growth from its roots--and discovers they are embedded in the heart of the dead child.From that moment forward, Alissa's life descends into nightmarish turmoil.
About the Author
The author of three best-selling series for young readers, Tony Abbott didn't actually turn to writing full-time until 1994. He has always been involved with the world of writing, however, from his time at the University of Connecticut -- where he graduated with a degree in English Literature -- to his work with a variety of specialty bookstores, a university library, and an Internet book and magazine publisher. He shares a love of fantasy and adventure with his readers, with whom he maintains contact through his many school visits; Abbott has also taught writing workshops for all elementary grades.

Zoran Drvenkar was born in Krizevci, Yugoslavia in 1967. He has authored many books for children and teens and believes that a book is a gate to another world. Zoran has worked as a freelance writer for over a decade, writing novels, poems, and plays. He has been nominated for several German literary awards including the Oldenburger Child and Youth Award.

Zoran's new Scholastic book, Tell Me What You See, is his first title to be published in English. Tell Me What You See takes place in Berlin on the night of Christmas. Sixteen-year-old Alissa and her best friend Evelin stumble upon a subterranean crypt and a veined purple plant. She severs the dark growth from its roots--and discovers they are embedded in the heart of the young corpse. After she swallows part of the plant, visions and fevers follow and Alissa discovers she has the power to both heal and hypnotize. But, trapped between the passions of her menacing boyfriend, Simon, and Evelin, her new magic may only bring tragedy.

Zoran lives in Berlin, Germany.
Praise For Tell Me What You See…
Kirkus STARRED review
10/15/05
In the icy-cold weeks after Christmas, Alissa's normal adolescent problems are overlaid with supernatural mysteries. On her annual Christmas pilgrimage to her father's grave, Alissa falls through the snow to the tomb of a dead boy with a plant growing from his chest. When Alissa, magically compelled, plucks and eats the plant, she finds herself afflicted with visions. She sees people walking down the street whom nobody else can see, people who turn into ravens and fly across the sky. Alissa's rotten ex-boyfriend is also affected by Alissa's new powers, and becomes a preternatural stalker, obsessed with Alissa and blessedor cursedwith the ability to find her. Only her best friend Evelin can help Alissa hold herself together in an increasingly surreal world. Alissa's story is told in alternating chapters by different characters, and the down-to-earth perspectives of Evelin and Alissa's stepfather keep this lyrical tale grounded until the satisfying and surprising conclusion. (Fantasy. YA)


Voice of Youth Advocates
(December 1, 2005; 0-439-72452-X; 978-0-439-72452-4)

In his first novel translated into English from German, Drvenkar transforms his protagonist, Alissa, by giving her the ability to see and talk to the spirits of the dead. Her gift begins when she discovers a strange purple plant growing out of a child's coffin in a crypt. Upon opening the lid, Alissa discovers that the plant has grown right through the child's heart. The plant insinuates itself into Alissa's psyche, causing her to take it home with her and then ingest it. Not only can she then see what cannot be seen, but also anyone who kisses her becomes obsessed with her. Her ex-boyfriend Simon, angry at her rejection, forces a kiss on her and then cannot stop stalking her. Alissa's friend Evelin does not understand exactly what is happening to Alissa, but she sacrifices everything-even her life-to save her. Drvenkar writes an exciting and imaginative thriller. The novel unfolds at a swift pace, following Alissa through the darkness of her unwelcome new gift. Readers will also be drawn to the three-dimensional characters fleshed out as the point of view shifts from chapter to chapter. Young adults who are captivated by stories of the paranormal will enjoy this title.-Leslie Carter.

SLJ 2/1/06
DRVENKAR, Zoran. Tell Me What You See. tr. from German by Chantal Wright. 290p. Scholastic/The Chicken House. 2005. Tr $16.99. ISBN 0-439-72452-X. LC number unavailable.
Gr 8 UpEver since Alissa's father died, she and her friend Evelin have made a midnight pilgrimage to his grave every Christmas. But this year Berlin is covered in snow, and while searching for the grave, Alissa falls into a crypt where she finds a child's coffin with a strange plant growing from it. Seduced by the plant, Alissa eats it and finds that it has given her powers. She can see strange people who transform into ravens, are invisible to everyone else, and who appear to comfort the dying. She also develops the ability to call back the dead, although she does not immediately realize what she is doing. Evelin watches in horror as Alissa seeks to figure things out and avoid her ex-boyfriend, who has become frighteningly obsessive. This is an odd, often confusing story in which much is left unexplained. The people Alissa sees are almost like angels, but they are cold and uncompromising; the plant was the dead boy's undeveloped gift," but why his unfulfilled potential takes over Alissa or causes her to develop these abilities is unclear. Still, the ambience is undeniable, and the elements behind the supernatural mystery, such as Alissa's relationships with her mother and stepfather, are evocative and ring true. Readers seeking a truly unusual horror story may find some satisfaction, despite the flaws, but most will prefer Charles de Lint's The Blue Girl (Viking, 2004), whi
Advertisement