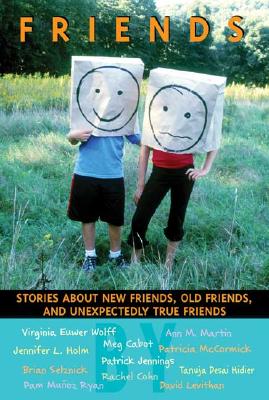 Friends (Hardcover)
Stories About New Friends, Old Friends, And Unexpectedly True Friends: Stories About New Friends, Old Friends, And Unex
Scholastic Press, 9780439729918, 192pp.
Publication Date: August 1, 2005
* Individual store prices may vary.
Description
The friend can be the girl next door . . . or a faithful dog . . . or a teacher . . . or just plain invisible. But in every life, there's at least one friend who changes your life. In this collection, writers including Virginia Euwer Wolff, Ann M. Martin, Pam Munoz Ryan, Tanuja Desai Hidier, Walter Dean Myers, Rachel Cohn, Meg Cabot, Jennifer L. Holm, Patty McCormick, David Levithan, and Patrick Jennings present stories about friendship and all of its reverberations. All proceeds go to The Lisa Libraries, which provides small libraries for children in need.
About the Author
MEG CABOT'S many series and books for adults, teens, and tweens have included multiple #1 New York Times bestsellers and have sold more than fifteen million copies worldwide. Her Princess Diaries series has been published in more than thirty-eight countries and was made into two hit films by Disney. Meg also wrote the New York Times bestselling Mediator, Airhead, Insatiable, and Allie Finkle's Rules for Girls series, as well as the award-winning novels All-American Girl and Avalon High. Meg lives in Key West with her husband and two cats. Visit Meg online at www.megcabot.com.

Pam Munoz Ryan is the recipient of the NEA's Human and Civil Rights Award and the Virginia Hamilton Literary Award for multicultural literature. She has written more than thirty books which have garnered, among countless accolades, the Pura Belpre Medal, the Jane Addams Award, and the Schneider Family Award. Pam lives near San Diego. You can visit her at www.pammunozryan.com.

Ann M. Martin's The Baby-Sitters Club series sold over 176 million copies and inspired a generation of young readers. Her novels include the Main Street series, BELLE TEAL, the Newbery Honor book A CORNER OF THE UNIVERSE, HERE TODAY, A DOG'S LIFE, and ON CHRISTMAS EVE, as well as the much-loved collaborations P.S, LONGER LETTER LATER and SNAIL MAIL NO MORE with Paula Danziger, and THE DOLL PEOPLE and THE MEANEST DOLL IN THE WORLD, written with Laura Godwin and illustrated by Brian Selznick. She lives in upstate New York.

Patricia McCormick, a finalist for the National Book Award, is the acclaimed author of CUT, MY BROTHER'S KEEPER, SOLD, and PURPLE HEART. Her debut novel, CUT, was an ALA Quick Pick for YA Readers, an ALA Best Book for Teenagers, and a NYPL Book for the Teen Age. McCormick was named a New York Foundation on the Arts fellow in 2004. She is also the winner of the 2009 German Peace Prize for Youth Literature. She is a graduate of the Columbia University Graduate School of Journalism and lives Manhattan. Tanuja Desai Hidier is American-born and currently based in the UK. She grew up in Wilbraham, Massachusetts and graduated from Brown University. Prior to moving to the UK, she lived in New York City, where she worked by day as a writer/editor for magazines, CD-ROM projects and websites.

Her first novel, Born Confused, is a coming-of-age story with an Indian-American protagonist, an aspiring photographer living in New Jersey, and is set in both NJ and New York City, largely in the context of the burgeoning South Asian Club scene. The heart of Born Confused is about learning to bring two cultures together without falling apart, yourself, in the process. The book takes its title from ABCD, or American Born Confused Desi, a slightly derogatory term that the first generation South Asians in the States and elsewhere use to describe these second generation Americans who are supposedly "confused" about their South Asian backgroun. Desi is Hindi for "from my country."

This theme of first and second generation India, and of finding your place in America, figures prominently in much of Desai Hidier's other work as well. her Partition-era short story, "The Border," was awarded first prize in the fiction category in the London Writers/Waterstones Competition in October 2001. Also in the fall of 2001, her short story, "Tiger, Tiger," was included in the Big City Lit anthology (New York City) celebrating the last decade of Asian-American writing. Earlier versions of both these works were part of the collection of connected stories for which whe was the 1995 recipient of the James Jones First Novel Fellowship Award.

Desai Hidier's short films, The Test (she wrote and directed) and The Assimiliation Alphabet (she co-wrote and -directed) deal with many of the same cultural assimilation themes as her fiction. The Test has screened at the Tribeca Film Center as
Praise For Friends: Stories About New Friends, Old Friends, And Unexpectedly True Friends: Stories About New Friends, Old Friends, And Unex…
PW 8-22-05
Friends: Stories about New Friends, Old Friends, and Unexpectedly True Friends
Martin, Ann Matthews (Editor)
Levithan, David (Editor
The definitions of friendship expressed in this collection of 11 short stories are as varied as the heroines and heroes introduced by well-established authors--including editors Martin (whose selection is an excerpt from A Dog's Life , reviewed above) and Levithan (Are We There Yet? , reviewed below). But nearly all of the protagonists share a burning need to find a kindred spirit. In two of the selections, new kids in town invent confidantes to ease the pain of loneliness. The narrator of Jennifer L. Holm's "My Best Friend" relies on an imaginary girl named Alexandra for companionship at her new home in Florida until she meets an elderly neighbor who admits she talks to an alligator. Patrick Jennings's hero is content spending time with a made-up "pixie friend" named Flit until the boy realizes that Flit is preventing him from making other friends. Other stories explore more traditional peer relationships: accidental and unlikely friendships, bonds that turn sour and animosities that turn sweet, as in Pam Muoz Ryan's (Nacho and Lolita , reviewed above) "The Friend Who Changed My Life" when a new fifth-grader links up with the bully who torments her. Tanuja Desai Hidier's story traces a blossoming friendship at the dawn of India's liberation. One of the most thought-provoking selections closes the anthology, as the now-grown narrator of Virginia Euwer Wolff's "Doll" reflects upon her motives for impulsively showing kindness towards a shunned first-grade classmate. Offering a wide realm of moods, outcomes and morals, these stories are perfect for sharing with friends. Ages 9-12. (Aug.)FYI: Proceeds from the sale of this book go to the Lisa Libraries, a nonprofit organization that donates new children's books to organizations serving needy children
SLJ MARTIN, Ann M. & David Levithan, eds. Friends: Stories about New Friends, Old Friends, and Unexpectedly True Friends. 185p. CIP. Scholastic. 2005. Tr $16.95. ISBN 0-439-72991-2. LC 2004027758.
Gr 5-8–This collection of stories by well-known authors spans a broad definition of the term "friend," and also approaches the topic from a wide variety of viewpoints. There are pieces about real-life friends, imaginary companions, animal friends, and those who fit the old saying, "with friends like that, who needs enemies." Some of the selections are written as if the events are happening in the present, some from the viewpoint of an adult looking back at childhood. The selections by Ann M. Martin, Pam Muñoz Ryan, Rachel Cohn, David Levithan, and Patricia McCormick are among the more outstanding entries. It is unlikely that any one reader will like all of them, but it is also likely that every reader will find at least one that hits home. The trick will be to get youngsters to keep reading to find that one.–Nancy P. Reeder, Heathwood Hall Episcopal School, Columbia, SC
or
Not Currently Available for Direct Purchase