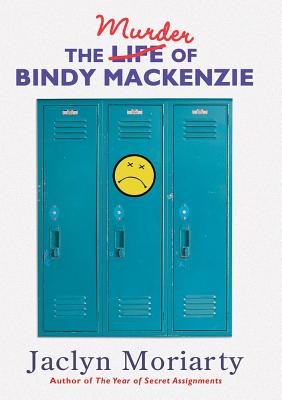 The Murder of Bindy MacKenzie (Hardcover)
Arthur A. Levine Books, 9780439740517, 494pp.
Publication Date: October 1, 2006
Other Editions of This Title:
Mass Market (5/1/2008)
* Individual store prices may vary.
Description
PERFECT. adj. 1. being entirely without fault or defect: flawless. 2. Bindy Mackenzie, student at Ashbury High. 3. Jaci Moriarty's murderously funny follow-up to THE YEAR OF SECRET ASSIGNMENTS.
Bindy Mackenzie is the smartest girl at Ashbury High. She memorizes class outlines to help her teachers. She holds lunchtime therapy sessions for her fellow students. She is always kind, polite, and helpful. And she wears crazy nail polish to show she's a free spirit.
But something is missing. And at the first session of the Friendship and Development Project, Bindy's worst suspicions are confirmed.
Nobody likes her.
Suddenly things begin to unravel. Bindy fails an exam. She can't sleep. She snaps at the principal. And she gets obsessed with the word "Cincinnati." (cont.)
About the Author
Jaclyn Moriarty grew up in Sydney, Australia, with 4 sisters, 1 brother, 2 dogs, and 12 chickens. She studied law at the University of Sydney, Yale, and Cambridge, and worked as an entertainment lawyer before she wrote the Ashbury High novels, including THE YEAR OF SECRET ASSIGNMENTS, THE MURDER OF BINDY MACKENZIE, and THE GHOSTS OF ASHBURY HIGH. She still lives in Sydney, with her little boy, Charlie.
Praise For The Murder of Bindy MacKenzie…
Kikrus
Told in emails, transcripts, memos and other musings, Bindy records the eventful start of Year 11
at Ashbury, an Australian private school Moriarty has portrayed in her previous work. Bindy is an
overachiever who thinks her classmates, teachers and even the School Board are desperately in need
of her input. The FAD (Friendship and Development") group, a new class taught by Try Montaine,
really needs her help. Bindy's hair, worn in two long braids rolled on the sides of her head, becomes
symbolic of her rigid, uncool, uptight existence. The murder of Bindy seems impossible, as she is the
main character, and Bindy is unaware of her ability to cause enmity with that level of vitriol, being
more comfy with just being irritating. Yet upon becoming aware of her own failings, she's equally
committed to atoning completely. Bindy's unreliable narration provides most of the humor and
suspense, hitting all the typical buttons Moriarty fans have come to expect, including a strange family
life and an over-the-top dénouement. As memorably unique as Bindy herself. (Fiction. YA)

Booklist
Moriarty follows The Year of Secret Assignments (2004) with another uproarious novel written entirely in diary entries, school assignments, transcripts, and other inventive formats. Once again the setting is Ashbury High, in Sydney, Australia, and Bindy MacKenzie, who had a pivotal cameo in Assignments, returns as the central character. Brilliant, precocious Bindy (I've been struggling a bit with Ulysses by James Joyce," she wrote in her diary as a ten-years-old) is frustrated when her gestures of kindness towards fellow students go unappreciated. Her aggressive resistance to a new required course, Friendship and Development, sharply alienates a group of her fellow classmates, whom she nicknames the Venomous Six. But as she gradually gains self-awareness, it's these students, along with dreamy transfer student, Finnegan, who embrace, support, and even save her. An additional crime plot is absurdly, gleefully flimsy and preposterous. It's the wild balancing act of shifting formats; the truths about family, school, and social pressures; and Bindy's unforgettable, earnest, hilariously high-strung voice that will capture and hold eager readers. Gillian Engberg

HB
This companion to Feeling Sorry for Celia and The Year of Secret Assignments (rev. 3/04) is set in the same Australian high school and focuses on yet another of its students. Fans may remember Bindy Mackenzie as the fast typist who transcribed the school hearing in Secret Assignments; the top student whose eccentricities have left her with few friends. As in that book, the story here is told entirely through diaries, memos, e-mail, and letters. Bindy's voice, both written and spoken, is old-fashioned and melodramatic -- and very funny. Well-meaning and sincere, Bindy is hopelessly clueless about how pompous she sounds and how many enemies she's made. Eventually it becomes clear that Bindy is in deep trouble: her habit of listening in on and transcribing people's conversations has apparently angered someone, enough to make her an attempted murder victim. While completely over-the-top, the murder mystery will have readers going back to hunt for clues they missed. Fans of the first two books will be eager to visit Ashbury High and its intrigues again, and to find out just what makes brainy Bindy tick. J.M.B.
or
Not Currently Available for Direct Purchase