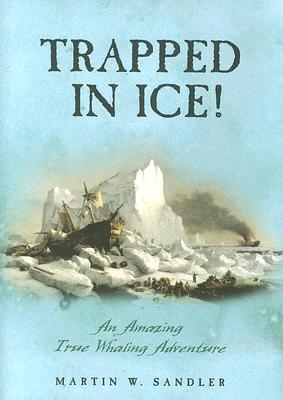 Trapped in Ice!: An Amazing True Whaling Adventure (Hardcover)
An Amazing True Whaling Adventure
Scholastic, 9780439743631, 168pp.
Publication Date: March 1, 2006
* Individual store prices may vary.
or
Not Currently Available for Direct Purchase
Description
In the late summer of 1871, thirty-nine whaling ships traveled to the frigid Arctic waters in search of the prized bowhead whale. Despite warnings from local Inuit tribes about impending inclement weather, thirty-two of the whaling ships--carrying 1,219 officers, crewmen, women, and children--decided to journey ahead. When a succession of icy storms ensued, the ships' captains realized that they were, literally, trapped in ice. What followed was a desperate race toward rescue--and against certain death. And, in an extraordinary testament to human courage and perseverance, all survived.
Praise For Trapped in Ice!: An Amazing True Whaling Adventure…
Booklist
Gr. 58. In the 1800s, whaling was an important, profitable enterprise: sperm oil was used for fuel and whalebone was turned into a number of useful products. Whaling was also dangerous. In 1871, people aboard 32 whaling ships discovered just how dangerous Arctic waters could be after they ignored warnings of an early winter. As conditions worsened, the ships were trapped by ice, forcing the 1,219 people to abandon the vessels or die. Sandler's account of this true story is both informative and absorbing, describing key players and their difficult journey as well as whaling history and technique. Side notes on such topics as life aboard ship and women at sea, and well-chosen illustrations, extend readers' understanding. While Sandler's use of accounts from journals and ships' logs is exemplary, adding immediacy and color to his narrative, his failure to cite his own sources is an unfortunate oversight. Appended are a further reading list and a glossary. For more real-life sea adventures in wintry, watery climes, suggest Jennifer Armstrong's Shipwreck at the Bottom of the World (2000). Krista Hutley

SLJ
SANDLER, Martin W. Trapped in Ice!: An Amazing True Whaling Adventure. 168p. photos. reprods. further reading. glossary. index. CIP. Scholastic Nonfiction. 2006. Tr $16.99. ISBN 0-439-74363-X. LC 2005042644.
Gr 5-8Readers can imagine 1219 stories of individual hardship when they read about the events of 1871 when an entire fleet of whaling ships was lost to Arctic ice. Beyond the challenges of whaling itself, the amazing part of this story is that all of the passengers and crew of this expedition survived. Why did 32 of the 39 captains ignore the Inuit's warnings of an early winter? Could they have saved the ships and their valuable harvest if they had waited out the weather? Was abandoning everything to save their lives the only option? What were their thoughts as they endured an 80-mile journey in sub-zero temperatures to reach rescue ships? Sandler uses strings of questions to emphasize the uncertainty of the circumstances and build suspense. Reproduced in frigid blue, primary documents including maps, photos, and period paintings represent the collection of the New Bedford Whaling Museum. Nine informational insets provide details about such subjects as whales, harpoons, and whaleboats. Although they tend to be terse, quotes from captains and crew contextualize the events. Like the ships that hunted whales, there are few embellishments. Still, the circumstances of this adventure, the history of whaling, and the specifics of the rescue are sensational. While mixing the terms Eskimo" and Inuit" is culturally insensitive, and the financial loss would be more profound if the author had converted 1871 dollars into contemporary values, this is a gripping combination of survival story and history.Janet S. Thompson, Chicago Public Library
Advertisement