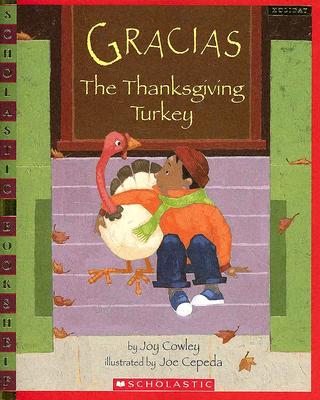 Gracias The Thanksgiving Turkey (Paperback)
Scholastic Paperbacks, 9780439769877, 32pp.
Publication Date: September 1, 2005
* Individual store prices may vary.
or
Not Currently Available for Direct Purchase
Description
Let the Scholastic Bookshelf be your uide through the whole range of your child's experiences--laugh with them, learn with them, read with them
Category: Holiday
When Papa sends a turkey to be fattened up for Thanksgiving, Miguel takes a liking to the friendly bird. Soon, Miguel and Gracias are going everywhere together. But Gracias isn't a pet-he's supposed to be a meal With a little help from Abuelito, Abuelita, and Tia Rosa ((implement accents)), will Miguel be able to keep Gracias off the Thanksgiving table?
This heartwarming tale will inspire readers to give thanks for family, community, and friendship.

About the Author
Joy Cowley began to write for children as a way to help her son with his reading. Since then, she has written over 400 books for early readers, including the Boston Globe/Horn Book winner Red-Eyed Tree Frog, Mrs. Wishy-Washy, Big Moon Tortilla, and Gracias, The Thanksgiving Turkey. Her latest title is Chameleon, Chameleon, which is a follow-up to the Red-Eyed Tree Frog. She currently writes for both adults and children.

In grade school, Joy was struggled with reading. However, when she discovered the adventures found in books, she "forgot" that she couldn't read. "By the age of 11, I was a book addict who haunted the local library," says Joy. " And like all children who over-dose on reading, I penned the overflow. Writing too, became an addiction."

She married a farmer when she was twenty-years-old, lived on a dairy farm and raised four children. "During those years I milked cows, changed diapers, made puppets and play dough and wrote short stories in the evenings." Joy states. An editor in New York read one of those stories, reprinted in Short Story International. That query led to five novels for adults. She was also writing stories for her son Edward, who was a slow reader. These little stories made their way to other children, other schools and by the early 1970s, teachers were making "big books" from them to use with their students. "Can you get these stories published?" they asked.

Joy is still writing full-time. These days the creative hours are divided between adult writing -- articles, spiritual reflection material, stories and novels -- and books for children.

Joy Cowley lives in New Zealand with her family. Mr Cepeda received his BFA in illustration from California State University, Long Beach in 1992 and also studied Engineering at Cornell University. He is the illustrator of awarding-winning picture books such as What a Truly Cool World and Nappy Hair.
Advertisement