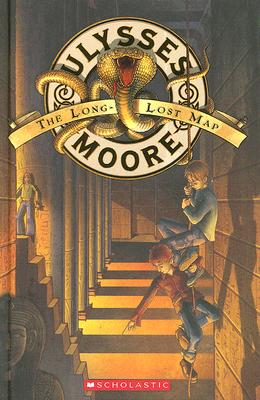 The Long-Lost Map (Hardcover)
Scholastic, 9780439774390, 261pp.
Publication Date: July 1, 2006
* Individual store prices may vary.
or
Not Currently Available for Direct Purchase
Description
Jason, Julia, and Rick have discovered one of the secrets of Argo Manor -- the Door to Time. Now the door has transported them to Ancient Egypt, a mysterious land of labyrinths, riddles, and secrets. But when they are accidentally separated, Julia ends up at Argo Manor again -- and she can't get back to Egypt, or the boys.
Now Jason and Rick have to find the long-lost map of Kilmore Cove, hidden somewhere in the past. But where? And with the wicked Oblivia Newton and her servant, Manfred, on their trail, the stakes are higher than ever. . . .
Praise For The Long-Lost Map…
Kirkus The Bad Guys come on strong in this sequel to The Door to Time (Jan. 2006), as young Jason and Rick race malign adult rival Oblivia Newton through the ancient city of Punt to solve clues leading to a mysterious map hidden in a labyrinthine library. Meanwhile, back in the present, Jason's twin, Julia, and the enigmatic old caretaker Nestor are attacked by Oblivia's vicious henchman Manfred under cover of a wild storm. As before, the focus is more on keeping the plot rolling than on attending to logic or historical detail, but along with the evocative assemblages of cryptic documents and drawings heading each chapter, there's enough atmosphere, action, suspense, as-yet-unsolved mysteries and sharp-tongued repartee to carry the tale over rough spots. By the end, Oblivia's on the verge of total triumph; let's hope for better news in the next episode. (Fantasy. 10-12)

Booklist
\\\\\\\\Baccalario, Pierdomenico. The Long-Lost Map. Tr. by Leah Janeczko. July 2006. 272p. illus. Scholastic, $12.99 (0-439-77439-X).
Gr. 46. The follow-up to the time-travel story Door to Time (2005), in the Ulysses Moore series, starts out with a bang: Jason and Rick find themselves in ancient Egypt, while Julia, magically locked out of their adventure, is back home at Argo Manor in Cornwall. Soon allied with an Egyptian girl, Jason and Rick follow clues and try to elude the nefarious Oblivia Newton. Meanwhile, back at the manor, Julia and Argo Manor's caretaker, Nestor, fend off Oblivia's loathsome henchman. The story ping-pongs between settings until the characters are reunited near the book's end. The last chapter points toward the next volume in the series. The characters are clearly delineated, but adventure is prime here. The illustrations (including handsome pencil drawings) at the beginnings of chapters have a three-dimensional quality in keeping with the book's pretense that readers are looking at the recovered manuscripts of the mysterious Ulysses Moore. Carolyn Phelan
Advertisement