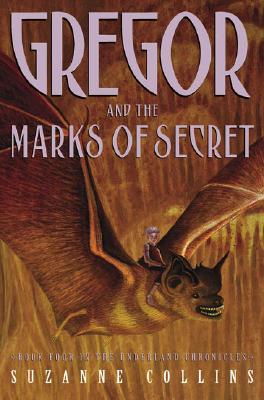 Gregor and the Marks of Secret (Hardcover)
Scholastic Press, 9780439791458, 343pp.
Publication Date: May 1, 2006
* Individual store prices may vary.
or
Not Currently Available for Direct Purchase
Description
It's only a few months since Gregor and Boots returned from the Underland, leaving their mother behind to heal from the plague. Though Gregor's family receives frequent updates on her condition, they all know Gregor must return to fulfill his role as the warrior who is key to the Underlanders' survival. Accompanied by his now-talkative, potty-trained little sister Boots, still considered the honorary "princess," Gregor joins forces with another princess -- 12-year-old Luxa -- and Ripred the rat to defend the Underlanders and the vulnerable "Nibblers" or mice, from the rat army led by (cont'd)
About the Author
Suzanne Collins' debut novel, Gregor the Overlander, the first book in The Underland Chronicles, received wide praise both in the United States and abroad. The series has been a New York Times bestseller and received numerous accolades. Also a writer for children's television, Suzanne lives with her family in Connecticut.
Praise For Gregor and the Marks of Secret…
Kirkus Starred
In this penultimate volume in "The Underland Chronicles," Collins begins to gather herself for the grand finale. Gregor has been taking echolocation lessons with Ripred, the charismatic and violent outlaw rat, and after one session he introduces Gregor to Bane, the white-rat pup Gregor spared in defiance of prophecy (Gregor and the Prophecy of Bane, 2004). Bane is now some eight feet tall and still growing, and thoroughly, dangerously mad. Shortly after this introduction, both Ripred and Bane go missing, and Queen Luxa discovers that mice who succored her in the jungle (Gregor and the Curse of the Warmbloods, 2005) have also disappeared, leaving only one enigmatic Mark and Hazard, Gregor's little sister Boots and the faithful cockroach Tornp. A customarily eventful trip through Hades Hall to the Firelands leads the band to both the mice and Bane, who has his own Final Solution in mind for the entire mouse race. The cliffhanger ending will leave readers gasping as Gregor goes chasing another prophecy, the direst yet.

Horn Book
Suzanne Collins Gregor and the Marks of Secret: Book Four in the Underland Chronicles
341 pp. Scholastic 5/06 ISBN 0-439-79145-6 $16.99 g
(Intermediate)
"So this is how a war starts.... Not with two armies facing off, waiting for the signal to charge.... It begins much more quietly. In a room, on a field, in a remote tunnel when someone who has power decides the time has come." In this fourth installment, twelve-year-old Gregor returns to the bizarre subterranean land of archaic violet-eyed humans and giant rodents, bats, insects, and other creatures. He and his fellow Underland battle veterans set out to answer a call for help from the mice, and their quest leads to some grim discoveries -- including an abandoned mouse colony, symbols of death etched in stone and blood, and, most gruesome of all, a mass grave. Collins keeps the tension and the stakes high;
vivid description, expert pacing, and subtle character development all enhance this gripping fantasy adventure. At the conclusion, we leave Gregor heading into what promises to be an interspecies conflict of epic proportions. "Who would he be...if he survived?" Readers will have to wait for the fifth (and final?) book to find out. K.F.
Advertisement