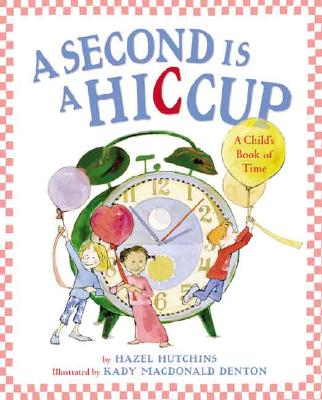 A Second Is a Hiccup (Hardcover)
A Child's Book of Time
Arthur A. Levine Books, 9780439831062, 40pp.
Publication Date: March 1, 2007
* Individual store prices may vary.
Description
"How long is a second?"
"A second is a hiccup--the time it takes to kiss your mom, or jump a rope, or turn around."

The newest book by acclaimed picture-book creators Hazel Hutchins and Kady McDonald Denton explains units of time in imaginative terms children can understand: A second lasts as long as a hiccup; a week is seven sleeps; and a year is the time it takes to grown into new shoes!

Any parent who's been asked, "How long is a minute?" or any kid who's wondered, "What does 'an hour' mean?" will enjoy this smart, simple, and surprising book.
About the Author
After many years of juggling writing, raising her children, and making a home with her now deceased husband, Hazel spends her days writing full time. Winner of Writer's Guild of Alberta Award for Children's Literature, she has written children's short fiction for Chirp, Chickadee, and Cricket.

When answering where the inspiration for A Second is a Hiccup came from, Hazel comments, "I decided to see if I could find other ways to describe time. When the writing began to flow in poetic form — and when I came up with the engaging title line A Second is a Hiccup — I knew I had begun a labor of love. The book went through many incarnations....in one version I actually brought in centuries and eons! Good grief! But it finally returned to exactly what it should be...immediate, simple and close-to-home. It is my sincere hope that children of all types will enjoy finding and celebrating, among the pages, the many ways they spend their time."


Kady MacDonald Denton has illustrated more than forty picture books, including the New York Times bestseller A VISITOR FOR BEAR by Bonny Becker, and A SECOND IS A HICCUP by Hazel Hutchins. She lives in Peterborough, Ontario, Canada. Please visit her website at www.kadymacdonalddenton.ca.
Praise For A Second Is a Hiccup: A Child's Book of Time…
"Hutchins explains the lengths of various time units in original, child-centered terms. A Second is how long it takes to hiccup or "to kiss your mom/ Or jump a rope/ Or turn around." A minute is not just 60 seconds, it's also time enough for 60 hiccups, 60 hops, or a little song including the chorus and verses. And so on, through an hour, a day, a week, a month, and a year. Ingenious explanations include a month as the time it takes for a scraped shin to grow new skin and a year how long it takes to outgrow a pair of shoes. Often falling in to rhymed couplets, the fluid text reads aloud well. Few contemporary illustrators depict children with such understanding, grace, and quirky charm as Denton, whose previous picture books include Claire Masurel's Two Homes (2001) and Nan Gregory's Amber Waiting (2002). Here the diverse cast of characters centers on three children who intersect with each other, their parents, and their siblings as they participate in a year's worth of activities. Washed with gentle colors, the sensitive drawings portray children who are secure, actively engaged, and sometimes even joyful within their community of family and friends. The first American edition of a Canadian picture book, this is a worthy companion to Zolotow's equally child-centered classic Over and Over (1957) and fresh new take on the passage of time." -- Booklist

or
Not Currently Available for Direct Purchase