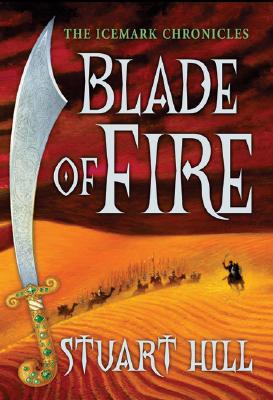 Blade of Fire
Hardcover

* Individual store prices may vary.
Other Editions of This Title:
Paperback (2/1/2008)
Description
Many years have passed since Queen Thirrin and her allies defended the Icemark against a brutal invasion. But now General Bellorum is back, along with his bloodthirsty spawn, twin sons even more vicious than him. Thirrin and Oskan also have a family: two girls and three boys. But darkness lurks within the House of Lindenshield: Medea, the couple's cold-hearted, fifteen-year-old daughter, who's just coming into her magical powers, may be the downfall of the kingdom. It's up to her brother, Charlemagne, crippled by polio as a child, to return from exile and rescue the land he loves.
Praise For Blade of Fire…
Kirkus
A huge (in every way) disappointment, this bloated sequel to Cry of the Icemark (2005) bogs
down a tale terrific at its core in a mire of uninspired subplots, unnecessary explanations and
predictable set pieces. Twenty years later, crazed general Scipio Bellorum is again massing troops to
invade the chilly Icemark. Suspecting that not even her nonhuman allies will be enough to turn the
tide this time, Queen Thirrin sends Charlemagne, youngest of her five children, overseas to safety
but Sharley" has other ideas, and even though hobbled by both polio and adolescent lack of
confidence, he embarks on a quest to find new allies. Watching him grow, mature and meet new (if
not particularly original) peoples provides the same fascination that his mother's similar journey
supplied in the previous episode. Compelled to give nearly every character a point of view, though,
Hill keeps putting Sharley's part on hold while cycling tediously through an unwieldy Icemark cast.
Eventually the foes all come together, Sharley charges in with dark-skinned armies from Arifica"
mounted on horses and zebras, the cardboard villains are washed away in fountains of blood and
Sharley's truly bad-apple witch sister Medea is dispatched to another dimensiondoubtless to await
the next sequel. Some good parts, but not enough to meet expectations. (Fantasy. 11-13)
Chicken House, 9780439841221, 574pp.
Publication Date: February 1, 2007
About the Author
The Cry of the Icemark, Stuart Hill's first novel is not only a remarkable debut but also a personal tribute. When he was a teenager, Stuart lost "the real Thirrin," his red-haired sister Kathleen, to leukemia. The story of the brave young warrior-queen who faces impossible dangers is dedicated to her. The Cry of the Icemark won the Ottakars Prize for the best new children's novel, an award given by one of Britain's leading book chains. Fox 2000 Pictures will turn the story into a major motion picture and foreign rights have been sold to over 14 countries.

Among his influences Stuart counts H. Rider Haggard, J.R.R. Tolkien, C.S. Lewis, and Margaret Abbey--his former grade school teacher and a writer of historical novels. Before beginning The Cry of the Icemark, he asked himself what had grabbed his interest as a young reader. The answer? Heroes, magic, monsters, and talking beasts. From noble Snow Leopards to ancient Vampire royalty to ferocious Wolf-folk, the characters in Icemark are sure to spark the imagination of children everywhere, and Stuart is already at work on the sequel to Thirrin's epic tale.

Stuart was born in Leicester, in the East Midlands of England, where he still lives today. His family background includes English, Irish, Romany, and Jewish blood. Although, as a student, his grades were average at best, Stuart was fortunate to have a teacher who inspired in him a lifelong love of reading. Since leaving school, he has worked as a teacher and archaeologist, and now balances life as both a bookseller and an author.