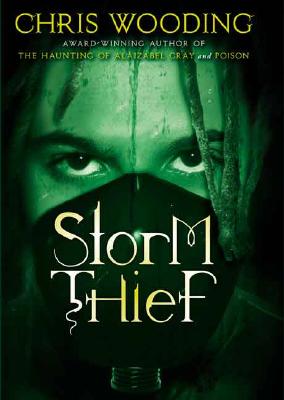 Storm Thief (Hardcover)
Orchard Books, 9780439865135, 320pp.
Publication Date: September 1, 2006
* Individual store prices may vary.
or
Not Currently Available for Direct Purchase
Description
Orokos is a city of chaos, lashed by probability storms that re-order the world wherever they strike. It covers every inch of the rocky island that it dominates. It has stood for so long that history has forgotten it, and its citizens no longer question what exists beyond its walls. Then three of its denizens discover a map that holds the key to the secret at the heart of Orokos. But there are others, such as the Chief of the Protectorate Secret Police who would do anything to get their hands on that power...anything at all...
About the Author
Chris Wooding began writing at the age of 16, and his first novel Crashing was published when he was 19. Since that time, he's written dozens of novels in several genres, notably the award-winning The Haunting of Alaizabel Cray; Poison; Storm Thief; the Malice series; and the graphic novel, Pandemonium.
Praise For Storm Thief…
Kirkus Starred
Come visit Orokos, an ancient metropolis in serious decay from previous technological heights.
The city, controlled by tempests that create chaos in all its sectors and populations, also endures a
dictator who maintains a shaky hold between probability storms. Once again, Wooding takes fantasy
and science-fiction conventions and gives them a good twist. Descriptions of this closed world as
witnessed by teen thieves, Rail and Moa, by a golem escaped during a probability storm and by the
head of the secret police himself, make very real the nature of Orokos's dystopia. The two teens,
having committed an unforgivable offense against their thief mistress, join with the golem Vago in a
quest for freedom from the fetid prison their world has become. Changing points of view, cliffhanger
section endings, hair-raising escapes and a bitter betrayal lead to a slam-bang climax and a satisfying,
lyrical and surprisingly touching ending. Although strikingly different from The Haunting of Alaizabel
Cray (2004) and Poison (2005), this stunning work of speculative fiction will appeal to Wooding's
fans and earn him new ones. (Fiction. YA)

HB
Wooding, author of the strange and adventure-filled Poison (rev. 9/05), once more opens his fantastical cabinet of invention, this time for a foray to the island-bound city Orokos, where probability storms change the topography or the inhabitants in the blink of an eye. Buildings vanish to reappear elsewhere, and people may turn to glass or grow extra limbs. Rail and Moa, two ghetto brats with only each other to depend on, steal an artifact of ancient science that enables them to pass through walls, but their thief-master wants the artifact for herself. The two flee to Moa's former home, a secret enclave of visionaries determined to escape the island, but they must first pass through a sector overrun by Revenants, wraiths that kill with a touch and then occupy the body. A stray whom Moa collects along the way, a hideous half-mechanical winged golem, helps combat the Revenants but attracts pursuit from the ruthless secret police. Wooding doles out plot revelations with a generous hand, salting the whole with liberal amounts of mortal peril, but while the wonders and tension keep the pot bubbling merrily, it is the triangle between Rail, Moa, and the initially innocent golem that gives the book its deeper savor. A page-turner to the end, Storm Thief will leave readers longing for more from Wooding's magical imagination. ANITA L. BURKAM

Booklist
Gr. 6–9. The latest from the author of The Haunting of Alaizabel Cray (2004) and Poison (2005) is a post-apocalyptic fantasy with trappings reminiscent of the 1995 film Waterworld. The citizens of Orokos, a crumbling city surrounded by an endless ocean, live at the mercy of probability storms that "might steal a baby's eyes and replace them with buttons, or turn a house into sugar paper." Together with the chaotic conditions, the city's totalitarian government makes life miserable for marginalized "ghetto-folk" like teen thieves Moa and Rail. After the companions stumble upon a valuable artifact, they must flee pursuers who covet their find. Their journey brings them into contact with a half-mechanical homunculus and a group of rebels preparing to escape the city permanently. A familiarity with Frankenstein and Rime of the Ancient Mariner, clear sources of inspiration, will enrich readers' appreciation of the novel, although most will simply like the inventive premise and the protagonists' tender relationship, never overtly romantic but replete with unspoken yearnings. –Jennifer Mattson

VOYA- I this well-crafted effort, teens Rail and Moa are thieves in the chaotic city of Orokos. Terrible probability storms batter the city, changing everything in their path- streets, buildings, even people- wi
Advertisement