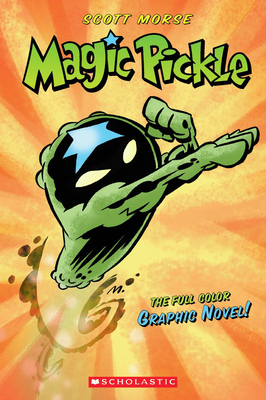 Magic Pickle (Paperback)
Graphix, 9780439879958, 112pp.
Publication Date: May 1, 2008
Description
The full-color graphic novel version of the Magic Pickle legend Magic Pickle, or "Weapon Kosher," as his creator, Dr. Jekkel Formaldehyde likes to call him, is the product of a top-secret U.S. Army lab. Unfortunately, the 1950s experiments to turn vegetables into soldiers went wrong. Sure, they created Magic Pickle, the flying dill soldier, but they also let loose a bunch of rotten vegetables, like the Romaine Gladiator, Chili Chili Bang Bang, the Phantom Carrot, and Peashooter. This Brotherhood of Evil Produce is out to take over the world and they've started.
About the Author
Scott Morse is the award-winning author of more than ten graphic novels for children and adults, including SOULWIND; THE BAREFOOT SERPENT; and SOUTHPAW. He's currently an animator at Pixar and has also worked for Cartoon Network, Disney, and Nickelodeon. Scott lives with his loving family in Northern California.
Advertisement