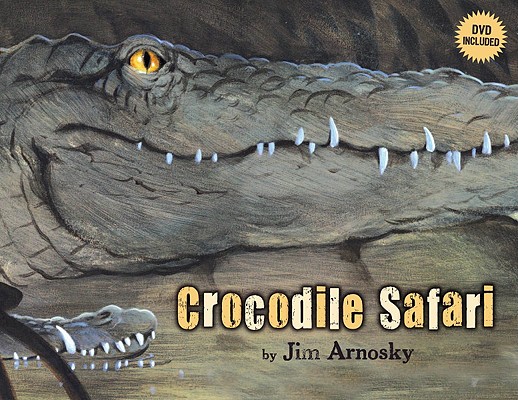 Crocodile Safari [With DVD] (Hardcover)
Scholastic Press, 9780439903561, 40pp.
Publication Date: March 1, 2009
Description
Jim Arnosky shares his adventures seeking and finding the elusive, once endangered North American crocodile. From the author's green canoe, young readers will travel on an exciting water safari and learn amazing facts about crocodiles, their habitat, and their behavior. And they will also discover how this threatened animal is being successfully protected. Maps showing the North American crocodile range are included.
A bonus DVD will show footage of how the author did his research along the briny lower Atlantic coastlines. It will also show him sketching, photographing, and creating his paintings for the book. And kids will have the master himself to teach them how to draw crocodiles! Also included in the amazing footage of incidents not recorded in the book is a toothless 80 year-old-crocodile whose jaws are so strong, he can eat without teeth!
About the Author
Jim Arnosky was born on Sept. 1, 1946, in New York. After high school, he attended one year of trade school and then joined the US Navy. His intense love of the natural world led him to pursue a career as a wildlife artist. Today, Arnosky is the author and illustrator of 98 books about wildlife and nature for children. He has received numerous honors for his work, including the American Association for the Advancement of Science Lifetime Achievement Award for excellence in science illustration. Currently, he and his wife live in northern Vermont.
Advertisement