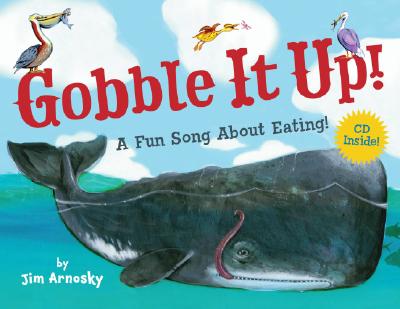 Gobble It Up!
A Fun Song about Eating! [With CD]
Hardcover

* Individual store prices may vary.
Description
Clap your hands and tap your feet to renowned wildlife artist Jim Arnosky's adorable and catchy new song/picture book that celebrates animals engaged in everyone's favorite daily activity -- eating!

If you were a wild raccoon,
You'd hunt at night by the light of the moon.
You'd catch some crawdads where they crawl,
And gobble them up -- shells and all!

From a hungry crocodile's attempt at a meal of wild ducklings, to a shark cruising for schools of fish, to a whale wrestling a wild giant squid; to a panda eating rare bamboo...... While some animals become food -- and some get away, readers will delight in seeing what and how different animals eat.

That's the way we all survive
We have to eat to stay alive.
We eat the food we have, and then --
We have to hunt for food again!
Scholastic Press, 9780439903622, 32pp.
Publication Date: September 1, 2008
About the Author
Jim Arnosky was born on Sept. 1, 1946, in New York. After high school, he attended one year of trade school and then joined the US Navy. His intense love of the natural world led him to pursue a career as a wildlife artist. Today, Arnosky is the author and illustrator of 98 books about wildlife and nature for children. He has received numerous honors for his work, including the American Association for the Advancement of Science Lifetime Achievement Award for excellence in science illustration. Currently, he and his wife live in northern Vermont.