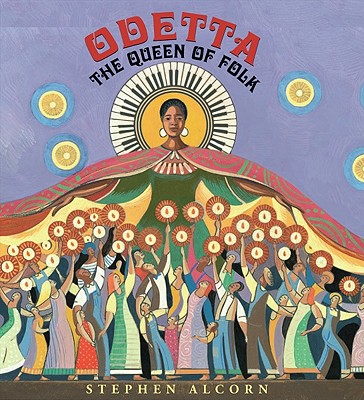 Odetta (Hardcover)
The Queen of Folk
Scholastic Press, 9780439928182, 40pp.
Publication Date: December 1, 2010
* Individual store prices may vary.
Description
A picture book that shines light on the indomitable life of one of the most influential American folksingers in the history of our country.

In the spirit of WHEN MARIAN SANG, this book introduces young readers to Odetta, an American folk legend. Lyrical text and striking paintings tell the story of the incredible singer whose life and works inspired such icons as Bob Dylan, Joan Baez, and Tracy Chapman. The book comes from the author's long and fruitful artistic relationship with Odetta and is based on personal dialogues he had with her before her death in December 2008.
About the Author
Stephen Alcorn is the illustrator of many award-winning books for young people, including the Coretta Scott King Honor book LET IT SHINE: STORIES OF BLACK FREEDOM FIGHTERS by Andrea D. Pinkney; THE YEAR OF THE PAPER MENORAHS by Doreen Rappaport; FREDERICK DOUGLASS, IN HIS OWN WORDS and LINCOLN, IN HIS OWN WORDS, both edited by Milton Meltzer. In addition, Mr. Alcorn is an acclaimed painter and printmaker whose works hang in private and museum collections throughout the world. He lives in Cambridge, New York.
Praise For Odetta: The Queen of Folk…
Publisher's Weekly Starred Review:
Thornhill's poem pays powerful tribute to the folk-singing legend, beginning with early experiences that shaped her music (\u0022Spirituals, gospel,/ prison, and work/ songs: the cup/ of soup Odetta/ grew up on!\u0022) and her first exposure to segregation when her family moved to Los Angeles. As Odetta grows older, she discovers her voice (\u0022Odetta couldn't/ just sing, she/ could sang./ To sang is to sing/ like you need the music/ as much/ as birds/ need sky\u0022) and becomes a central figure in the civil rights movement. Filled with stars, candles, lightning bolts, music notes, and angels, Alcorn's rousing compositions borrow from folk art traditions, religious imagery, graphic design, and 1960s album cover art, creating a rich tapestry that trumpets the power of this singular figure. Ages 7–10. (Dec.)
or
Not Currently Available for Direct Purchase