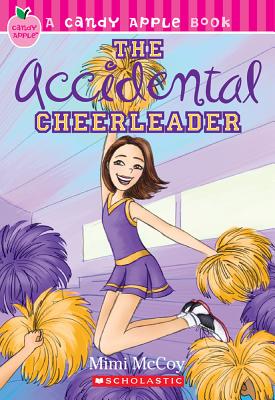 Candy Apple #1
The Accidental Cheerleader
Paperback

* Individual store prices may vary.
Other Editions of This Title:
Prebound (1/1/2007)
Description
When shy Sophie's best friend, Kylie, signs them both up for cheerleading tryouts, it's Sophie who lands in the spotlight - and Kylie ends up on the sidelines. Now Kylie is stuck playing mascot, and she doesn't exactly get along with Sophie's new friends on the squad. Things really spin out of control right before the big game, and Sophie has to choose sides. Can the girls rediscover how to root for each other before the clock runs out on their friendship?
Praise For Candy Apple #1: The Accidental Cheerleader…
From PUBLISHERS WEEKLY:

The Accidental Cheerleader
Mimi McCoy. Scholastic, $4.99 paper
(176p) ISBN 978-0-439-89056-4

The debut novel in the Candy Apple series introduces two very different 12-year-old best friends: introverted, quick-to-blush Sophie and outgoing, impulsive Kylie. Sophie reluctantly agrees to be Kylie's partner at tryouts for their middle school cheerleading team. Rather predictably, gymnast Sophie makes the squad, but klutzy (if gutsy) Kylie is instead offered the position of team mascot–a costumed mule. Attending practices without Kylie, Sophie initially feels like an outsider amidst the confident, popular and mostly petty other cheerleaders, but gradually gets sucked into their superficial social sphere. The plot takes a melodramatic turn when Sophie is suddenly shunned by her old and new friends after she dances with a star football player on whom Kylie has long had a crush and whom the head cheerleader dated the previous year ("for three weeks"). Despite such contrivances, the tale convincingly conveys the social pressures of middle school, and the price and precariousness of popularity, offering a cheer-worthy blend of fluff and substance. The second Candy Apple title, Laura Dower's The Boy Next Door (ISBN 978-0-439-92929-5), is due out simultaneously. Ages 9-12. (Jan.)

Source: Publisher's Weekly, January 1, 2007, p. 51
Scholastic, 9780439929288, 176pp.
Publication Date: January 1, 2007
About the Author
Mimi McCoy is the author of the Poison Apple book The Dead End and the Candy Apple books The Accidental Cheerleader, The Babysitting Wars, and Star-Crossed. She lives in San Francisco, CA, and does not have a twin, evil or otherwise. That she knows of . . .
or
Not Currently Available for Direct Purchase