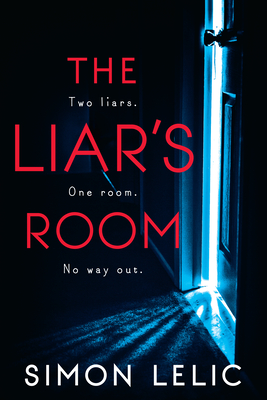 The Liar's Room (Paperback)
Berkley, 9780440000433, 352pp.
Publication Date: January 15, 2019
Other Editions of This Title:
Digital Audiobook (1/14/2019)
* Individual store prices may vary.
Description
A new spine-tingling thriller from the author of The New Neighbors that takes place over the course of a therapy session, in which neither patient nor therapist are who they claim to be.

Two liars. One room. No way out.

Susanna Fenton has a secret. Fourteen years ago she left her identity behind, reinventing herself as a therapist and starting a new life. It was the only way to keep her daughter safe.

But when a young man, Adam Geraghty, walks into her office, claiming he needs Susanna's help but asking unsettling questions, she begins to fear that her secret has been discovered.

Who is Adam, really? What does he intend to do to Susanna?

And what has he done to her daughter?
About the Author
Simon Lelic is a former journalist and the author of the award-winning A Thousand Cuts, the critically acclaimed The Facility and The Child Who, and The New Neighbors, his first psychological thriller, inspired by the love of Alfred Hitchcock and Stephen King. Simon lives with his wife and three children.
Praise For The Liar's Room…
Praise for The Liar's Room

"Brilliantly tense…You'll try to outguess the plot but always be one step behind as the secrets and lies gradually unfold in ever more dark and disturbing ways"--CJ Tudor, Sunday Times bestselling author of The Chalk Man

"A central theme of the book―How much is a parent responsible for a child's behavior?―is presented in a thought-provoking way that will stay with readers long after the final twist. Hand this one to readers who enjoyed Lionel Shriver's We Need to Talk about Kevin (2003)."― Booklist

"This thrilling suspense novel will have you on the edge of your seat…. Be prepared to read this straight through. It's very difficult to put down."― Suspense Magazine

Praise for Simon Lelic's The New Neighbors

"An intricate, powerful, and deeply unsettling thriller about the profound ways in which cruelty can change its survivors, and the creeping fear that nothing--not your home, not love, not even your own mind--is as rock-solid and impregnable as we all want to believe."--Tana French, New York Times bestselling author of The Trespasser

"This terrifying thriller sent shivers through me!"--Jane Corry, author of My Husband's Wife

"A masterpiece of duplicity, a psychological thriller of the highest order, in which the characters not only lie to each other and to everyone around them, they lie to themselves. With two highly unreliable narrators digging themselves deeper in every chapter, fans of he said/she said suspense will love this tense and gripping story. Highly recommended!"--Karen Dionne, author of The Marsh King's Daughter

"Enjoy the intense ride."—Publishers Weekly

"A bundle of creepy chills...Read it."--The Observer

"Deeply creepy...This clever, twisting plot, told in convincing voices, will haunt you in the very best way."--Sunday Mirror