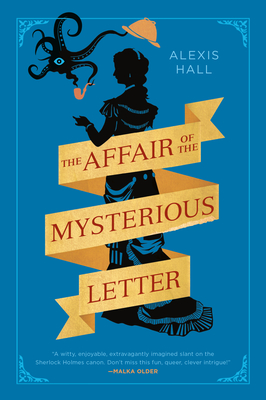 The Affair of the Mysterious Letter
Paperback

* Individual store prices may vary.
Other Editions of This Title:
Digital Audiobook (6/17/2019)
Description
In this charming, witty, and weird fantasy novel, Alexis Hall pays homage to Sherlock Holmes with a new twist on those renowned characters.

Upon returning to the city of Khelathra-Ven after five years fighting a war in another universe, Captain John Wyndham finds himself looking for somewhere to live, and expediency forces him to take lodgings at 221b Martyrs Walk. His new housemate is Ms. Shaharazad Haas, a consulting sorceress of mercurial temperament and dark reputation.

When Ms. Haas is enlisted to solve a case of blackmail against one of her former lovers, Miss Eirene Viola, Captain Wyndham is drawn into a mystery that leads him from the salons of the literary set to the drowned back-alleys of Ven and even to a prison cell in lost Carcosa. Along the way he is beset by criminals, menaced by pirates, molested by vampires, almost devoured by mad gods, and called upon to punch a shark.

But the further the companions go in pursuit of the elusive blackmailer, the more impossible the case appears. Then again, in Khelathra-Ven reality is flexible, and the impossible is Ms. Haas' stock-in-trade.
Praise For The Affair of the Mysterious Letter…
"I really enjoyed this book. It was absolutely delightful, like a chocolate box, full of unexpected and brilliant references, sparklingly witty."—Genevieve Cogman, author of The Invisible Library

"The Mysterious Affair of the Letter is a witty, enjoyable, extravagantly imagined slant on the Sherlock Holmes canon. Hall nails the Holmesian aesthetic in marvelously amusing ways while taking us on an extended romp through a wild range of alternate universes with a bizarre cast of characters. Don't miss this fun, queer, clever intrigue!"—Malka Older, author of Infomocracy
 
"I haven't been so enchanted and delighted by a book in years. It's like the literary equivalent of being wrapped in a blanket and being driven in a horse drawn carriage through a magical park filled with the most amazing things happening all around and feeling safe and loved all the way through. A sheer delight from start to finish and the most perfect blend of gentle humour, wild creativity and love for the feel of Sherlock Holmes."—Emma Newman, author of Atlas Alone

"Extraordinarily Imaginative. This is the most fun I've had between two covers in a while!"—Lara Elena Donnelly, author of Amberlough
 
"It's difficult to express my delight in The Affair of the Mysterious Letter without falling back on semi-coherent exclamations that John Wyndam would want to discreetly summarize in gentler language. This book is so far up my alley that I discovered new, non-euclidean corners of the alley that I didn't previously know existed. The world has heretofore suffered from a sad lack of queer consulting sorceresses, prudish-yet-romantic Azathoth cultists, existentially surreal urban planning, and post-colonial Carcosan politics."--Ruthanna Emrys, author of Winter Tide

"This zany queer and fantastical pastiche of the Sherlock Holmes stories froths with magic and humor…Hall nudges the reader's ribs with subtle satires of the works he's mashing up, and enlivens the plot with amusing scrapes and confrontations...a fun riff on canonical works of fantasy and detection."—Publishers Weekly

"This book is simply magic from cover to cover."--BookPage

Praise for Alexis Hall's other work:

"Simply the best writer I've come across in years."--New York Times bestselling author Laura Kinsale

"Brilliantly written, dangerously good, immensely satisfying."--New York Times bestselling author Suzanne Brockmann
Ace, 9780440001331, 352pp.
Publication Date: June 18, 2019
About the Author
Alexis Hall is a pile of threadbare hats and used teacups given a semblance of life by forbidden sorcery. He has a degree in very hard sums from a university that should, by all rights, be fictional.