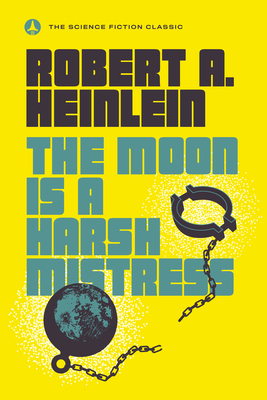 The Moon Is a Harsh Mistress
Paperback

* Individual store prices may vary.
Other Editions of This Title:
Digital Audiobook (4/30/2000)
MP3 CD (6/1/2010)
Audio Cassette (5/1/2000)
Paperback (12/1/1976)
Compact Disc (6/1/2010)
Paperback (6/15/1997)
Compact Disc (6/1/2002)
Description
For fans of Artemis—the visionary tour de force from "one of the grand masters of science fiction" (The Wall Street Journal).

Widely acknowledged as one of Robert A. Heinlein's greatest works, The Moon Is a Harsh Mistress rose from the golden age of science fiction to become an undisputed classic—and a touchstone for the philosophy of personal responsibility and political freedom. A revolution on a lunar penal colony—aided by a self-aware supercomputer—provides the framework for a story of a diverse group of men and women grappling with the ever-changing definitions of humanity, technology, and free will—themes that resonate just as strongly today as they did when the novel was first published.

The Moon Is a Harsh Mistress gives readers an extraordinary, thought-provoking glimpse into the mind of Robert A. Heinlein, who, even now, "shows us where the future is" (Tom Clancy).
Praise For The Moon Is a Harsh Mistress…
Praise for The Moon is a Harsh Mistress
 
"A significant book in the history of the genre."—Tor.com
 
"Offers a lot of food for thought and fodder for argument...indisputably rich with ideas."—io9
 
"What separates Heinlein's writing from that of his peers: his ability to show us the inescapable humanity of technologically advanced futures."—BooksTellYouWhy.com
 
Praise for Robert A. Heinlein and His Novels
 
"We proceed down the path marked by his ideas. He shows us where the future is."—Tom Clancy
 
"One of the grand masters of science fiction."—The Wall Street Journal
 
"A brilliant mind-bender...Wonderfully humanizing."—Kurt Vonnegut
 
"Certainly among the most influential...science fiction novel[s] of all time."—The Guardian
 
"This book was destined to become a bestseller, shaping the sensibilities of a generation."—The Boston Globe
 
"The word that comes to mind for him is essential. As a writer—eloquent, impassioned, technically innovating—he reshaped science fiction in a way that defined it for every writer who followed him...He was the most significant science fiction writer since H.G. Wells."—Robert Silverberg
 
"Heinlein's genius is at its height in this timeless classic that is meaningful today as when it was written...a fast paced novel that never gets preachy. This is a definite must have, must read book."—SF Site
Ace, 9780440001355, 400pp.
Publication Date: July 31, 2018
About the Author
Robert Anson Heinlein
was born in Missouri in 1907, and was raised there. He graduated from the U.S. Naval Academy in 1929, but was forced by illness to retire from the Navy in 1934. He settled in California and over the next five years held a variety of jobs while doing post-graduate work in mathematics and physics at the University of California. In 1939 he sold his first science fiction story to
Astounding
magazine and soon devoted himself to the genre.
He was a four-time winner of the Hugo Award for his novels Stranger in a Strange Land (1961), Starship Troopers (1959), Double Star (1956), and The Moon is a Harsh Mistress (1966). His Future History series, incorporating both short stories and novels, was first mapped out in 1941. The series charts the social, political, and technological changes shaping human society from the present through several centuries into the future.
Robert A. Heinlein's books were among the first works of science fiction to reach bestseller status in both hardcover and paperback. he continued to work into his eighties, and his work never ceased to amaze, to entertain, and to generate controversy. By the time he died, in 1988, it was evident that he was one of the formative talents of science fiction: a writer whose unique vision, unflagging energy, and persistence, over the course of five decades, made a great impact on the American mind.
or
Not Currently Available for Direct Purchase