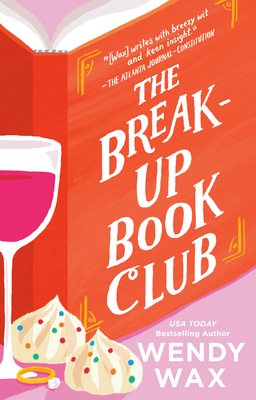 The Break-Up Book Club
Paperback

* Individual store prices may vary.
Other Editions of This Title:
Digital Audiobook (5/17/2021)
Paperback, Large Print (9/7/2022)
Description
Named one of 2021's Best Beach Reads by Bustle ∙ Country Living ∙ Cosmopolitan ∙ Augusta Chronicle ∙ E! Online ∙ PureWow ∙ SheReads ∙ and more!

Breakups, like book clubs, come in many shapes and sizes and can take us on unexpected journeys as four women discover in this funny and heartwarming exploration of friendship from the USA Today bestselling author of Ten Beach Road and My Ex-Best Friend's Wedding.

On paper, Jazmine, Judith, Erin and Sara have little in common – they're very different people leading very different lives. And yet at book club meetings in an historic carriage house turned bookstore, they bond over a shared love of reading (and more than a little wine) as well as the growing realization that their lives are not turning out like they expected.

Former tennis star Jazmine is a top sports agent balancing a career and single motherhood. Judith is an empty nester questioning her marriage and the supporting role she chose. Erin's high school sweetheart and fiancé develops a bad case of cold feet, and Sara's husband takes a job out of town saddling Sara with a difficult mother-in-law who believes her son could have done better – not exactly the roommate most women dream of.

With the help of books, laughter, and the joy of ever evolving friendships, Jazmine, Judith, Erin and Sara find the courage to navigate new and surprising chapters of their lives as they seek their own versions of happily-ever-after.
Praise For The Break-Up Book Club…
One of Cosmopolitan's 20 Books to Read This Summer

"The Break-Up Book Club is a glorious celebration of female friendships and empowerment. Once again, Wendy Wax, the queen of women's fiction, hits a homerun. She shows us what it means to be let down, only to be lifted up, higher and more determined than ever.… A heartfelt lesson in the beauty of book clubs, where people of every age, race, and social status unite behind their love of words, and ultimately, each other. Every town should have a Break-Up Book Club!"
—Lori Nelson Spielman, New York Times bestselling author 

"Witty and warm, The Break-Up Book Club is a delightful journey through the changing lives of four strong, fascinating, independent women. I want—no, NEED—to join this book club!"
—Karen Hawkins, New York Times bestselling author of The Book Charmer
 
"A joyous tribute to female friendship and book clubs everywhere, Wendy Wax weaves the lives of diverse women (and a few charming men) together in an unputdownable story. Just try not to fall in love with every single character in The Break-Up Book Club."
—Amy E. Reichert, author of The Kindred Spirits Supper Club

"The Break-Up Book Club is everything we've come to expect from Wendy Wax—a heartwarming, witty and compulsively readable tale that makes you feel like you're spending time with your best girlfriends. I loved it!"
—Colleen Oakley, Author of You Were There Too

 "An ensemble novel intertwining the stories of several women experiencing the highs and lows of modern love, Wax's latest novel was built for book clubs. Sure to delight romcom fiends and fans of Emily Giffin's and Holly Chamberlin's books, it champions inner strength and the power of a fresh perspective. Highlighting the challenges of different seasons of life, Wax charts the journeys of a trusted group of strangers-turned-friends."
—Booklist

"Wendy Wax knows what readers crave most – to surround themselves with good friends and great books. The Break-Up Book Club gives us a diverse group of southern women challenged by life, but with the strength of new friendships, they learn to stand strong, leap faithfully, and fight back. After reading this one, you'll be either looking for a book club or thanking your lucky stars you belong to one."
—Liz Talley, Author of The Wedding War

Praise for the novels of Wendy Wax
 
"Filled with her trademark witty dialogue and crisp writing, readers will be immersed in a deeply emotional tale of what family really means, and of friendship lost and found."
—Karen White, New York Times bestselling author
 
"Reading Wendy Wax is like discovering a witty, wise, and wonderful new friend."
—Claire Cook, New York Times bestselling author
 
"Wax offers her trademark form of fiction, the beach read with substance."
—Booklist

"[Wax] writes with breezy wit and keen insight."
—The Atlanta Journal-Constitution

"If you're a sucker for plucky women who rise to the occasion, this is for you."
—USA Today 
 
"[A] loving tribute to friendship and the power of the female spirit."
—Las Vegas Review-Journal
 

Berkley, 9780440001454, 384pp.
Publication Date: May 18, 2021
About the Author
Wendy Wax, a former broadcaster, is the author of sixteen novels and two novellas, including My Ex–Best Friend's Wedding, Best Beach Ever, One Good Thing, Sunshine Beach, A Week at the Lake, While We Were Watching Downton Abbey, The House on Mermaid Point, Ocean Beach, and Ten Beach Road. The mother of two grown sons, she has left the suburbs of Atlanta for an in-town high-rise, that is eerily similar to the fictional high-rise she created in her 2013 release, While We Were Watching Downton Abbey.