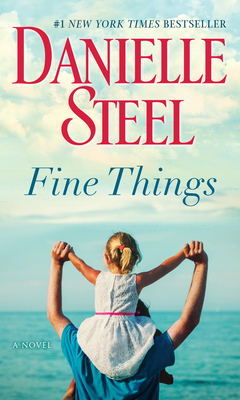 Fine Things (Mass Market Paperbound)
Dell, 9780440200567, 432pp.
Publication Date: February 1, 1988
* Individual store prices may vary.
or
Not Currently Available for Direct Purchase
Description
Smart, likable, Bernie Fine was the wonder boy ofWolff's, New York's most glamorous departmentstore. A senior VP moving up, he arrives in SanFransisco to open a West Coast store. His career isskyrocketing, but his life is lacking a center.When he looks into the wide, innocent eyes offive-year-old Jane O'Reilly, and then into the equallyenchanting eyes of her mother, Liz, Bernie knowshe has found what he has been looking for. Berniethought he had found love to last a lifetime, butwhen Liz is stricken with cancer shortly after the birth oftheir first child, time becomespainfully short. Alone with two children, Berniemust face the loss and learn how to move on. Newpeople, new experiences, a new life alone with twokids. He meets it with courage and humor, andlearns some of life's hard but precious lessons as hedoes.
About the Author
Danielle Steelhas been hailed as one of the world s most popular authors, with over 650 million copies of her novels sold. Her many international bestsellers include"Country, Prodigal Son, Pegasus, ""A Perfect Life, Power Play, Winners, First Sight, Until the End of Time, The Sins of the Mother, "and other highly acclaimed novels. She is also the author of"His Bright Light, "the story of her son Nick Traina s life and death;"A Gift of Hope, "a memoir of her work with the homeless;"Pure Joy, "about the dogs she and her family have loved; and the children s book"Pretty Minnie in Paris.""
Praise For Fine Things…
"Steel is one of the best."—Los Angeles Times
Advertisement