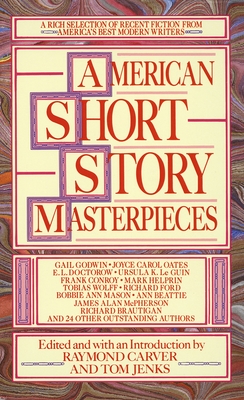 American Short Story Masterpieces: A Rich Selection of Recent Fiction from America's Best Modern Writers (Mass Market Paperbound)
A Rich Selection of Recent Fiction from America's Best Modern Writers
Dell, 9780440204237, 528pp.
Publication Date: April 2, 1989
Description
This highly Acclaimed collection of short stories by American writers contains only the best literary art of the past four decades. With a bias toward realism editors Raymond Carver and Tom Jenks have selected fiction that "tells a story"-and tells it with a masterful handling of language, situation, and insight. But what is so special about this volume is that it mirrors our age, our concerns, and our lives. Whether it's the end of a marriage, as in Bobbie Ann Manson's "Shiloh," or the struggle with self-esteem and weight in Andre Dubus's "The Fat Girl," the 36 works included her probe issues that give us that "shock of recognition" that is the hallmark of great art--wonderful, absorbing fiction that will be read and reread for decades to come.
About the Author
Raymond Carver was born in Clatskanie, Oregon, in 1938. His first collection of stories, Will You Please Be Quiet, Please (a National Book Award nominee in 1977), was followed by What We Talk About When We Talk About Love, Cathedral (nominated for the Pulitzer Prize in 1984), and Where I'm Calling From in 1988, when he was inducted into the American Academy of Arts and Letters. He died in August of that year, shortly after completing the poems of A New Path to the Waterfall.
Advertisement